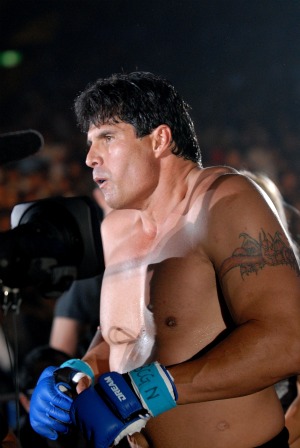 By Evan Brunell
Is anyone else sick of hearing about Jose Canseco?
Canseco deserves all the credit in the world for breaking the steroid scandal, but don't forget the only reason he did so was to make a quick buck.
And now Canseco isn't above pulling bait-and-switches for a few grand, as Celebrity Boxing's Damon Feldman found out Saturday night in Hollywood, Fla. Canseco has attempted to box before, but was knocked out by former NFL player Vai Sikahema in one match, lost to a 60-year-old assistant athletic director from the University of Arkansas-Little Rock in another and fought Danny Bonaduce to a draw. He also had a brief and ludicrous MMA and kick-boxing stint.
Feldman hired Canseco to fight at the Passion nightclub in the Hard Rock Cafe, only to find out that Jose substituted himself with his twin brother, Ozzie, and demanded upfront payment of $5,000 in cash.
"A bait-and-switch,'' Feldman told the South Florida Sun Sentinel. "I'm disgusted."
Feldman said Canseco (pictured... we think) was paid $5,000 in advance for the fight, with another $5,000 due at the fight. Canseco (the Jose version) missed his flight early Friday night from L.A., but when "he" showed up for the weigh-in, Feldman figured all was OK.
Except the first tip that all was not as it seemed came after "Jose" kept requesting to be paid in cash before the fight.
"I told him I had to pay him by check for business reasons," Feldman said. "He said he needed cash. We went back and forth."
Then, a text message arrived from Jose Canseco's phone: "You have to pay him."
"I was confused by why he wrote 'him,''' Feldman said. "I still wasn't going to pay cash, and that's when [Ozzie] walked out,'' Feldman said. "About then people began telling me it wasn't really Jose, too. They pointed to the tattoos on his arms."
Jose has tattoos on his arms, while Ozzie is clean. The twin brother of Jose, who at times subs in for Jose for autographs was then escorted out of the nightclub by police. Jose would later tweet that night "Be very careful with Damon feldman [sic] who runs celebrity boxing he will not pay you if you fight for him." Once the story broke, Canseco would later defend his name on Twitter, saying -- among other things -- "is anyone out there smart enough to figure it out or are you all a bunch of hateful morons[?]"
Feldman then received another text from Canseco Sunday.
"If you pay my brother the $5,000 I will fight for you again and handle all the media that is calling me and make you look good," the text reads. "If not, well, you're on your own."
Needless to say, Feldman wasn't interested and is now seeking the original $5,000 back.
For more baseball news, rumors and analysis, follow @cbssportsmlb on Twitter or subscribe to the RSS feed.