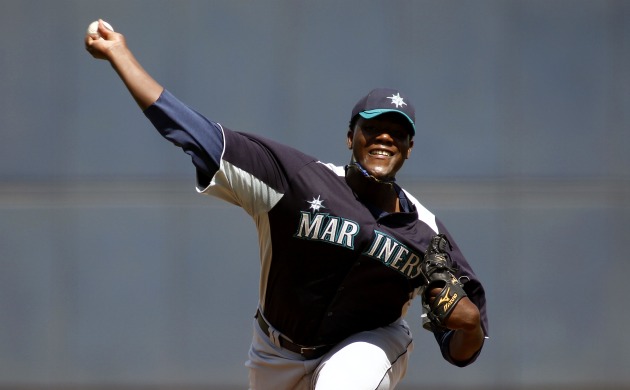 By Evan Brunell
The Mariners have decided to go with phenom Michael Pineda in the No. 5 spot of the rotation, as Geoff Baker reports on Twitter.
This is a surprise, as Pineda is just 22 and it would have been entirely justifiable for the Mariners to send him to Triple-A for some more seasoning and wait until June to promote Pineda. By allowing Pineda to break camp with the team, Pineda could hit free agency after the 2016 season. Of course, this is all assuming Pineda stays in the majors and doesn't lose service time in the future, but it is difficult to imagine Pineda blowing up and requiring a demotion. The Mariners would not have made the move to Pineda without being fully confident in both his current talent and ability to sustain it over a full year.
The right-hander was recently named the No. 20 prospect in all of baseball by CBS Sports and could eventually emerge to give the team a wicked complement to Felix Hernandez atop the order.
Pineda split 2010 between Double- and Triple-A, making 13 starts in the lesser league and earning a 2.33 ERA in 77 innings, walking 17 and whiffing 78. While he would walk 17 in Triple-A as well in less innings (62 1/3), he also dialed up his whiff proficiency, seating 76 by way of the K. Due to some bad luck, he finished his Triple-A season with a 4.76 ERA in 13 starts.
Now, Pineda will hit the majors and give fans and Ichiro Suzuki something to get excited about. There's promise in the Emerald City with Pineda hitting the majors and Justin Smoak manning first base after being acquired in the Cliff Lee trade. Top hitting prospect Dustin Ackley, who was ranked No. 8 among the top 100 list, will hit the majors at some point this season and take over second base. It will take some time for all the talent to gel together, but there's cause for real optimism.
Pineda will bring up the back of a rotation headlined by Hernandez and followed by Jason Vargas, Doug Fister and Erik Bedard.
For more baseball news, rumors and analysis, follow @cbssportsmlb on Twitter or subscribe to the RSS feed.