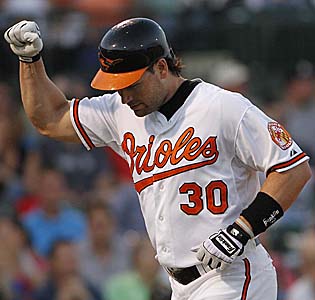 By Matt Snyder
3 UP
Luke Scott
,
Orioles
. By the end of the second inning Scott had two home runs and seven RBI after a three-run bomb and a grand slam. Have a day, Luke!
Jake Fox
, Orioles. He was outdone by Scott Monday, since Fox only mustered one home run and RBI -- but let's tip our collective hats to the spring Fox put together. He came in fighting for a roster spot, he left with 10 home runs in 73 at-bats, with a 1.137 OPS. Basically, he was the most feared slugger in the Grapefruit League.
Kila Ka'aihue
,
Royals
. Though overshadowed by Fox, the Royals' first-sacker is having quite the spring of his own. Ka'aihue hit his seventh home run of the spring Monday and drove home three -- running that total to 20 RBI in 56 at-bats. He's hitting .411 with an amazing 1.351 OPS.
3 DOWN
Max Scherzer
,
Tigers
. If the Orioles' hitters went that bonkers, someone had to bear the brunt of it, and it was Scherzer. He was dismantled. The ugly line: 2 1/3 innings, nine hits, 11 earned runs, three home runs (see above for the Baltimore culprits). He was already having a rough spring, but now the ERA sits at 10.38. On the bright side, last season Scherzer had a 6.23 ERA and he went on to put up a 3.50 ERA in the regular season.
Jake Westbrook
,
Cardinals
. Only four guys crossed the plate, but Westbrook allowed 13 baserunners in 4 1/3 innings. That's a WHIP of 3.00 and he won't always be able to strand so many runners -- especially with zero strikeouts.
Bud Norris
,
Astros
. The
Phillies
-- sans
Ryan Howard
and, of course,
Chase Utley
-- had their way with Norris Monday. Six hits, four walks and a three-run
Ben Francisco
bomb doomed Norris, as he allowed six earned runs in five innings and saw the spring ERA balloon to 7.71. Much like Scherzer, however, Norris was brutal last spring and much better when the games actually mattered. Fortunately for the two, the slates wipe clean in just a few days. And fortunately for the rest of us, too, because we need some games that mean something.
For more baseball news, rumors and analysis, follow @cbssportsmlb on Twitter or subscribe to the RSS feed.