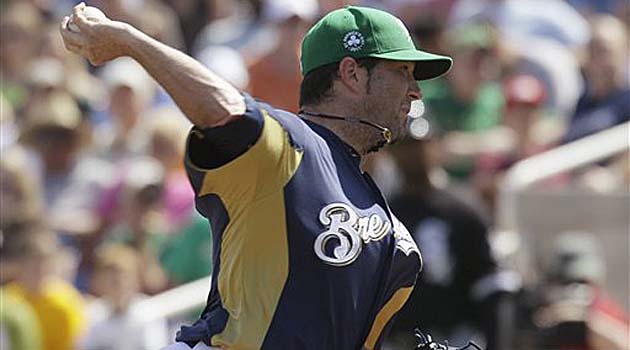 By Matt Snyder
With
Zack Greinke
on the shelf, the
Brewers
badly need
Shaun Marcum
-- who missed his previous spring start with shoulder soreness and has some injury history -- to come out of camp healthy. He threw four innings Monday in his last spring outing and felt fine. (
Brewers blog
)
So that's the good news.
The bad news is the Brewers have been injury-riddled this spring -- they'll start with five players on the disabled list -- and it's exposed the fragile thin layer of major-league talent they have.
There is certainly reason for optimism in Milwaukee, because they have some really good players. They can hit the ball, have good starting pitching -- so long as everyone is healthy, that is -- and what appears to be a capable closer. But when you're trading for
Sergio Mitre
and
Nyjer Morgan
in the last few days of spring to shore up depth, that's hardly a flawless team. Injuries can bury this team, the spring should merely serve as a warning.
With the
Reds
' injury woes,
Adam Wainwright
going down and
Cubs
having obvious flaws, this seems like a race that will be determined by the team with the best luck in terms of health. And the Brewers are already starting off on the wrong foot, even if Marcum felt fine Monday night.

SAVING CASHNER:
The Cubs correctly named
Andrew Cashner
the fifth member of the starting rotation over the former albatross, Carlos Silva. There are concerns with Cashner's workload, however, as he's never thrown more than 111 1/3 innings in a season. As a full-time starter, he should be expected to go over 150. The Cubs have pointed out they will "constantly" monitor his load this season, in terms of pitches and innings, to ensure the long-term health of their former first-rounder. (
Chicago Sun-Times
)
PEREZ PUKES, IS PEEVED:
So
Indians
closer
Chris Perez
threw up on the back-end of the mound in the ninth inning of a spring game Monday (
Jordan Bastian
via Twitter), but then
threw out a tweet himself
about it, saying, "all right, enough of all this Perez threw up bs, I had low blood sugar and was dizzy, and only water came up."
THE AMAZING ECKSTEINS:
I'm not even going to try and do this justice. It's too long and too good. Just read the whole thing.
David Eckstein
's family has donated five kidneys to each other and another six more are likely to be needed. David hasn't taken a turn yet, but he's "on deck." (
The Post Game
)
PRIOR DETERMINED:
Mark Prior
was demoted all the way to Class-A after a spring that saw him put up a 1.17 ERA in 7 2/3 innings of work. He still feels like he's going to help the
Yankees
at some point this season, and manager Joe Girardi said, "I think he's got a pretty good shot." (
ESPN New York
)
OH JOSE:
Jose Canseco did some nice work on Twitter Monday. Let's see ... he said ESPN is owned by Major League Baseball, so they lie. "You will never know the real truth is you keep listening to the media." (That one was weird for me because I have never, ever been told what I can or cannot write by anyone). And the cherry on top, this gem: "Just remember the media is write 20 percent of 50 percent of the time." That one was aptly followed by him accusing other people of being ignorant. This all came on the heels of the news that Canseco
pulled a bait-and-switch
at a charity boxing event. Of course, Canseco's whole reason for the tirade was that he wanted to see if anyone was smart enough to figure out what actually happened. And it's all the media's fault. The funny thing is, Twitter is a media that gives Canseco a forum to tell his side. Don't tell us to guess what happened. Don't take a few days to reveal what happened, as it looks like you're cooking up a story, Jose. If there's a different truth, just tell it. But that's the problem, isn't it? (
Jose Canseco
via Twitter)
MOST DEPRESSED?
A website put together a list of the most depressed baseball cities among the 18 teams that haven't won the World Series in the past 20 years. Oddly enough, Washington D.C. checked in at the top. These types of things are pretty immeasurable, really, but I guess it's entertaining enough to look at this point. We're just killing time until opening day anyway by now. (
via Ultimate
Astros
)

MATUSZ STRUCK, STILL OPTIMISTIC:
Orioles
starting pitcher
Brian Matusz
was throwing a simulated game when he was struck in his left biceps by a line drive, forcing him to stop his session well early. It's fortunately just a bruise, as the Orioles aren't even going to go through precautionary X-Rays. He's had a rough spring, but still remains confident for the regular season. (
MASN.com
)
SALT RIVER FIELDS FOREVER:
The
Diamondbacks
and
Rockies
shared the new Salt River Fields facility this spring and it has been all the rage from pretty much everyone who has seen the place. The attendance has shown the popularity, as the place has drawn pretty staggering numbers. The D-Backs have drawn over 189,000 fans, averaging 11,161 per game. The number is almost double last season's spring attendance for the Snakes. The Rockies have similar figures, bringing in 10,485 fans per game, just about double last season's number. The facility has set all kinds of attendance records, with the Diamondbacks ranking first in spring attendance and the Rockies checking in at No. 3 -- the Yankees were second. (
MLB.com
)
NO BRACKETS FOR YOU:
With the gambling accusations against former clubhouse manager Charlie Samuels, the
Mets
have refrained from running any NCAA basketball tournament bracket competitions. Manager Terry Collins said there was no specific mandate to avoid it, but everyone just thought it would be a bad idea. They must have known how things were going to shake out, huh? (
Newsday
)
ON-DECK ACCOUNT:
Remember Aaron Guiel? He played for the
Royals
from 2002-2006 and then a little bit for the Yankees late in '06. Well he plays in Japan now, and he was on deck in a NPB game in Yokohama when the big earthquake happened. He described the event from his point of view to
Canadian Baseball Network
.
LEYLAND ON 'PLAYER X:'
By now everyone's surely heard of ESPN the Magazine's "Player X," in which an anonymous player writes about the sport in which he plays. The latest baseball entry, "Player X" took on
Miguel Cabrera
, specifically wondering why he doesn't pay someone to drive him when he's out drinking.
Tigers
manager Jim Leyland didn't care for the column, saying: "To me that's a gutless (jerk) that doesn't put his name to it. If somebody would have said, 'Hey, this is Jim Leyland and this is what I say, he should do this or this, then that's fine. But when you (another expletive) hide behind somebody else's expense, that's chicken (expletive) to me." (
Detroit Free-Press
) I can see the logic in that. Since my name is on this, I'll ask the same question, though: How do any players
ever
get a DUI? Miguel Cabrera makes $20 million a year. Why can't he -- or anyone else in the league who has gotten (or will get) a DUI -- pay someone something like $50,000 a year to be his driver? It would make things easier on everyone -- provide a job to someone, avoid the questions of alcoholism, keep guys out of jail, etc. I just don't get it.
For more baseball news, rumors and analysis, follow @cbssportsmlb on Twitter or subscribe to the RSS feed.