By C. Trent Rosecrans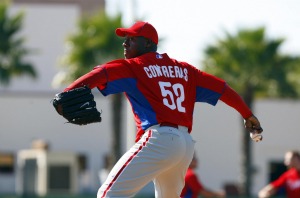 With news that closer Brad Lidge won't be able to throw for another three to six weeks, Phillies manager Charlie Manuel said he will likely turn to Jose Contreras to close.
Lidge had an MRI on Tuesday and it showed a posterior rotator cuff sprain, general manager Ruben Amaro Jr. told reporters, including the Philadelphia Daily News' Paul Hagen. Lidge won't need surgery, Amaro said.
"Hopefully after another three weeks, if he's feeling OK, he'll start throwing and then we'll progress him from there," Amaro said. "We're glad it's not a labrum. That' son the bright side of things. But it's still significant."
In Lidge's absence, the team will turn to the 39-year-old Contreras over Ryan Madson, who has been groomed to take over for Lidge.
"Right now, with the way it looks, here lately we've been using Contreras," Manuel said. "Of course, Madson is still there. At the same time, to start the season, it looks like it might be Contreras. I don't know yet. But I'd say right now, if I had to pick somebody tonight, it would probably be Contreras."
Madson will likely stay in his set-up roll. In the past, he's struggled when asked to close.
Manuel also said Ben Francisco will be starting in the place of rookie Domonic Brown, who is out with a fracture of the hook in his hamate bone in his right hand. John Mayberry Jr. had a good spring, tying with Ryan Howard for the team lead with five home runs, but Francisco wasn't too bad either, hitting .385 with four home runs this spring.
For more baseball news, rumors and analysis, follow @cbssportsmlb on Twitter or subscribe to the RSS feed.