By C. Trent Rosecrans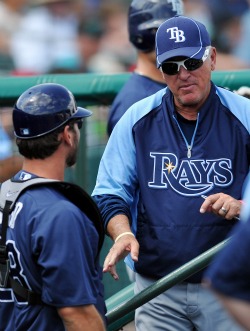 It's less than 48 hours until the 2011 Major League Baseball season kicks off, do you know who your closer is?
Joe Maddon doesn't.
"Well, there isn't one," the Rays manager told Roger Mooney of the Tampa Tribune, "and I'm not going to declare one, because I think if you are not absolutely certain, then you shouldn't do that, because you're only setting yourself up for problems later on."
Maddon said he was happy with his rebuilt bullpen with just one holdover from last season, Andy Sonnanstine. He'll be joined by Jake McGee, a September call-up a year ago, along with Kyle Farnsworth, Joel Peralta, Juan Cruz, Cesar Cabral and Adam Russell. The team will also add J.P. Howell in May.
It appears Farnsworth is as close as the team will have to a conventional closer, but Maddon may not save his closer for the ninth inning and obvious save situations.
"What I've learned over the last couple of years is that it's really about the leverage of the moment," Maddon said. "Why permit the game to get away in the seventh or eighth inning and have no chance to win it in the ninth and then you're using somebody entirely different anyway. I'm going to do my best to parcel out the work nightly and match them up as well as we can, try not to abuse anyone by warming them up and not putting them in the game."
Just the use of the word "leverage," Maddon is going to get a lot more fans in the sabermetric world. In hypothetical baseball, the prevailing theory is that a closer isn't needed, but no team has really tested that since the 2003 Red Sox, and that was abandoned during the season. Maddon doesn't have much of a choice, there's no lights-out closer sitting in the Rays' pen -- there may not even been a dimmer switch -- but he's got to try something. It will at least be something interesting to watch as the season goes along.
For more baseball news, rumors and analysis, follow @cbssportsmlb on Twitter or subscribe to the RSS feed.