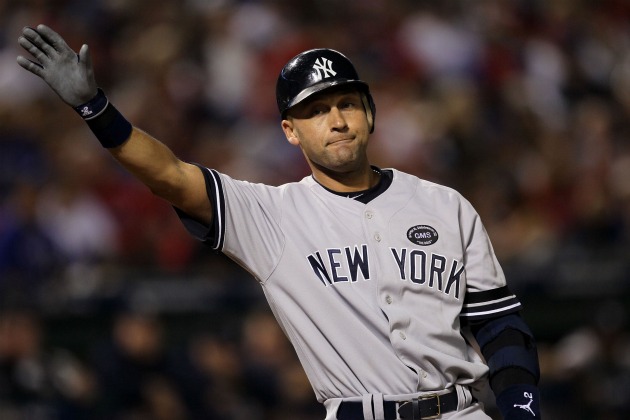 By C. Trent Rosecrans
It's hard to believe that in the long, storied history of the New York Yankees, no player has reached 3,000 hits while wearing the pinstripes. Well, until this year.
With 2,926 hits, Derek Jeter is 74 hits from becoming the 28th player in baseball with 3,000 hits, passing such greats as Rogers Hornsby (2,930), Barry Bonds (2,935) and Frank Robinson (2,943) along the way.
Dave Winfield, Rickey Henderson and Wade Boggs all wore the uniform on their way to 3,000, but no Yankee has ever reached the mark. Jeter already holds the record for most hits in a Yankee career, passing Lou Gehrig (2,721) in 2009.
Jeter also has a chance not only to become the first Yankee with 3,000 hits, but also to do it at home. Last year Jeter rapped his 74th hit on June 6. The year before, it was June 12, and in 2008 it came on June 19. This season the Yankees have a homestead against the Red Sox, Indians and Rangers from June 7-16.
While Jeter's run to 3,000 hits will get the most attention of any milestone in 2011, it's not the only one.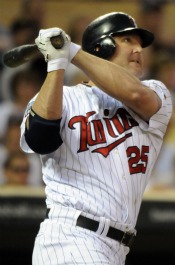 Jim Thome enters the season with 589 home runs and is just 11 from becoming the eighth player in history to reach 600. From there, he can move up the all-time list as Sammy Sosa is seventh with 609.

At 613 home runs, Alex Rodriguez needs 18 homers to pass his one-time teammate Ken Griffey Jr. (630) and 48 to pass Willie Mays (660).
Manny Ramirez has 555 home runs, but after a nine-homer 2010 and 19 in 2009, 45 homers this season doesn't seem likely. His career-high is 45, hitting that many in 1998 and 2005.
The 400 home run list isn't quite the feat it once was, but three players -- Paul Konerko (365), Adam Dunn (354) and David Ortiz (349) -- are knocking on the door.
Speaking of 400, Johnny Damon is 15 stolen bases from reach 400 for his career. He had 11 last season. Ichiro Suzuki is 17 stolen bases shy of 400 -- he had 42 last season.
Jimmy Rollins needs two triples for 100 in his career.
While it won't get much attention, Hideki Matsui has 493 career homers combined between Japan and the United States, putting 500 within reach.


How unlikely is it we see another 300-game winner anytime soon? The career leader in wins among active pitchers (besides the inured
Jamie Moyer
and his 267 victories) is
Tim Wakefield
, who has 193. Not only does he need seven wins to get to 200, he only needs to yield 11 hits to have surrendered 3,000 in his career (interestingly, 124 pitchers in baseball history have allowed 3,000 hits).
Javier Vazquez has 2,374 career strikeouts, leaving him 126 strikeouts short of becoming the 30th pitcher to strike out 2,500. Vazquez had 121 last season with the Yankees, so if he's healthy for the Marlins this season he should be close.
And, of course, there's the other great Yankee, Mariano Rivera, who is 41 saves from becoming just the second pitcher in history to record 600 saves. He's 43 saves away from taking over the all-time lead from Trevor Hoffman, who retired after last season with 601.
For more baseball news, rumors and analysis, follow @cbssportsmlb on Twitter or subscribe to the RSS feed.