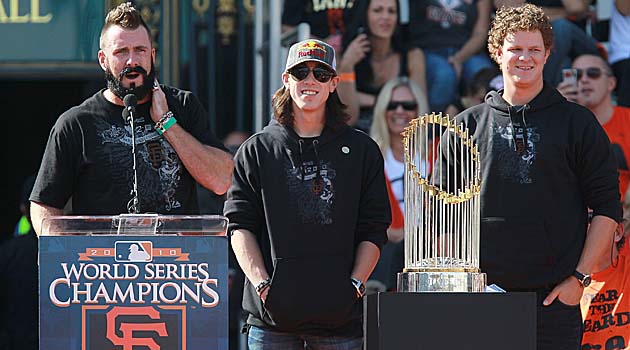 By Matt Snyder
It's palpable. The 2011 baseball season is finally (almost) upon us.
My favorite part about the beginning of the baseball season is how much of the unknown we're about to encounter. Go back to the predictions from last season from any professional publication, any team message board, anywhere. I challenge you to find one with the
Giants
against the
Rangers
in the World Series.
Roy Halladay
for Cy Young -- OK, nearly everyone had that one. So, yeah, there might be some things we know are going to happen. Still, not many had the
Reds
in the NL Central last year. I bet the same percentage of people who picked this season's NCAA basketball Final Four correctly had the
Padres
winning 90 games last season.
Josh Hamilton
for AL MVP? C'mon. The examples are seemingly endless.
So, yes, there are going to be many predictions heading into the season. It's fun to do them, in fact, it's one of my favorite things to do. That doesn't mean anyone knows what's going to happen, otherwise it would be pretty boring to actually watch the thing unfold.
So let loose with the fearless predictions. Are you a
Nationals
fan that who thinks your team is taking down the
Phillies
this year? Sing it, sister! No one can tell you you're wrong right now. Nothing has happened yet and it's a time for optimism.
Remember, as our friend Andy Dufresne once tried to teach his good buddy Red, hope is not a dangerous thing -- it's a good thing.
MADDON'S WINE LINEUP:
Joe Maddon is awesome. This should be accepted as fact. In the latest example, Maddon sets a batting order of his favorite wines. (
TBO.com
)
ETHIER UNSURE?
This was a bit puzzling to come out just a few days before the season started, but it could very well be much ado about nothing. All-Star outfielder
Andre Ethier
said he wasn't sure about his future with the
Dodgers
after this season. "You don't know if this is your last [year] or not, but you want to enjoy it to its fullest extent and make the most out of it." (
LA Times
) What's weird about this is Ethier isn't a free agent until after 2012. It doesn't seem he's a likely trade candidate, as he's a young member of the team's nucleus. So you could dig deep and think he knows something ... or you could take this for what it probably was -- a guy just talking about every possibility as he heads into an uncertain season. Let's not make a mountain out of a molehill here.

DISGRUNTLED DODGER FAN:
Here's a beauty. A fan of the Dodgers had been attending games for 23 years and was a season ticket holder for the past eight. He declined to renew his season tickets for 2011 and when offered lunch with owner Frank McCourt -- likely to try and smooth things over -- the fan refused. "My friends all asked me if I was crazy," Brian Gadinsky said. "I told them, no, I am just tired. … I am tired of being loyal to a man who has not returned that loyalty." Gadinsky later said he hopes the Dodgers go 162-0 but he "can no longer support a man who has taken this great foundation and allowed it to rot." Awesome. (
LA Times
)
BITTERSWEET DAY FOR PEAVY:
Jake Peavy
had a good day Tuesday, though he was feeling down about things. "It was a tough day, but a motivating day as well," he said (
Chicago Sun-Times
). Peavy would be speaking about seeing his team break camp without him, as well as his simulated game against
White Sox
hitters going well. He threw 45 pitches, retiring all 13 hitters he faced -- including
Carlos Quentin
four times. But since he's still building his way back from tendinitis in his rotator cuff, he's staying behind as the White Sox head north for the season. If everything goes as planned, Peavy will make a second rehab stint April 13 and could join his teammates at the big-league level after that.
DOWN GOES HAPP:
Astros
starting pitcher
J.A. Happ
went down with the seemingly trendy oblique injury. As we've seen with
Brian Wilson
and a few others this spring, this is an injury that takes several weeks to overcome, though Happ is still "optimistic" he can be ready for his first start. He must have read my intro above. (
Ultimate Astros
)
IZZY CONTEMPLATES RETIREMENT?
The
Mets
have chosen
Blaine Boyer
as their final bullpen arm to enter the season, which meant veteran
Jason Isringhausen
was designated for assignment. Though Izzy did only allow one run in seven spring innings, the Mets are concerned about his durability -- and who can blame them, with his three Tommy John surgeries and age (38). Manager Terry Collins is reportedly trying to convince Isringhausen to stay with the team, though he may retire to spend more time with his family. Also, give credit to general manager Sandy Alderson, who reportedly "promised" Isringhausen the Mets would release him if another team wanted to sign him. (
New York Times
baseball blog)
OGANDO READY:
We found out earlier in the week
Alexi Ogando
would take the rotation spot vacated by
Tommy Hunter
. Tuesday, he had a nice outing to prepare for the transition. He worked six innings, giving up one run on three hits while walking four and striking out five. He faced Coastal Carolina, but the main thing was showing he could throw six innings and he appears ready to take the temporary plunge into the rotation. (
Star-Telegram
)

JURRJENS PROGRESSING:
Braves
starting pitcher
Jair Jurrjens
left his start last Thursday with "discomfort" in his ribcage (oblique muscle, anyone?) and hasn't thrown off a mound since. He did play catch in the outfield Tuesday, so that's something. "He's progressing well. We're just not there yet," general manager Frank Wren said. "We're not pushing it, because we don't want to set him back." The only thing the Braves have revealed on the next step is that Jurrjens will throw a side session "soon." Fortunately the Braves have four other very capable starters in
Tim Hudson
,
Derek Lowe
,
Tommy Hanson
and
Brandon Beachy
. They could even dip into the minors and grab Mike Minor if Jurrjens is out for an extended amount of time. (
MLB.com
)
DREW DAY-TO-DAY:
Stephen Drew
had an MRI on his stomach Tuesday and was diagnosed with a strained abdomen. He's listed as day-to-day and might miss opening day, but he is not going to be placed on the disabled list. This is where we remind everyone that missing opening day is not a huge deal. It's 0.6 percent of the season. (
MLB.com
)
For more baseball news, rumors and analysis, follow @cbssportsmlb on Twitter or subscribe to the RSS feed.