By C. Trent Rosecrans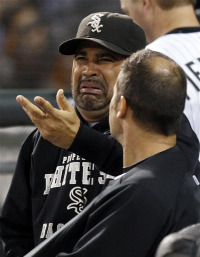 The
White Sox
will start the season in Cleveland tomorrow, and Ozzie Guillen isn't happy about it.
"Very stupid to play in Cleveland right now," the White Sox manager
told the Chicago Tribune
on Thursday after his players built a snowman at the team's workout day at Progressive Field. "Nothing against Cleveland. We expect that. When you play on opening day … a couple of years ago they canceled like 30 games here. [But] we are here and we have to play through snow."
The
Indians
had to clear 3-4 inches of snow to prepare for Thursday's workout and Indians groundskeeper Brandon Koehnke
told the Cleveland Plain Dealer
the field would be ready for play on Friday.
"Based on the forecast and the work we're doing, I don't have any reason to believe we can't be ready by Friday afternoon," Koehnke said. "It's going to be a long, painstaking process to get to that point, but these are the cards we've been dealt."
With temperatures rising, the snow is expected to melt, and Koehnke said the drainage system would take over.
That's not much comfort to the players who will be playing in the cold.
"That's why I don't understand why teams don't start in domes or on the West Coast for the first couple of weeks,"
Mark Buehrle
told the Tribune. "We'll just have to deal with it and hopefully they can clean it off and be ready to go."
Buehrle has a point, even though it would stink to have your team constantly starting it season on the road and never getting to experience a true opening day. However, it doesn't make much sense to have the
Angels
,
Diamondbacks
and
Astros
open on the road.
For more baseball news, rumors and analysis, follow @cbssportsmlb on Twitter or subscribe to the RSS feed.