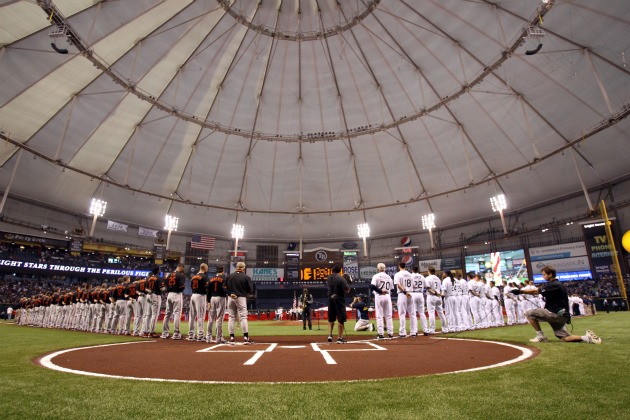 By Evan Brunell
Wow, St. Petersburg mayor Bill Foster certainly isn't pulling any punches. He has no interest in letting the Rays out of the lease at Tropicana Field anytime soon, unless its to build another stadium in St. Petersburg. And not only that, he's prepared to fight for that.
"The city is prepared for interference from Major League Baseball and all of the [commissioner Bud] Selig tricks that have been used successfully elsewhere," Foster told the Tampa Tribune. "We studied it, we know it, and we're prepared."
The Rays are beholden to the stadium until 2027 at the earliest, but Rays owner Stu Sternberg says it's time for a move and wants other locations in the Tampa Bay area considered while Foster won't expand the search past St. Petersburg and adjoining areas of the county.
While Sternberg believes it is "imperative" for stadium talks to get moving and doesn't believe low attendance can be reversed, Foster feels the opposite.
"I take responsibility for easy ingress and egress to the facility and [fans'] experience until they get to the border," Foster said. "[The Rays] have to take over. They have to do their part to make sure there's an entire fan experience. I think they're doing it. Maybe they have to reassess some of how they do that."
However, the Rays have been consistent winners the last three years, reaching the World Series in 2008. Despite that and a low pricing structure, the Rays struggle to draw fans.
Now here's where things turn strange. Foster actually likes Tropicana Field, even though it's the last remaining vestige of the worst thing to invade baseball: domed stadiums. (Baseball is meant to be watched outside in the summer, and a retractable roof is a great compromised. But domed?)
"I love it," he said. "I mean, look at the field (new AstroTurf was installed this offseason). Aside from a couple of quirky ground rules -- you know, I call the (catwalk) rings Wrigley's Ivy -- it's an absolute beautiful facility, to me, in Florida to play baseball."
Right. Something tells me the Rays aren't going anywhere any time soon.
For more baseball news, rumors and analysis, follow @cbssportsmlb on Twitter or subscribe to the RSS feed.