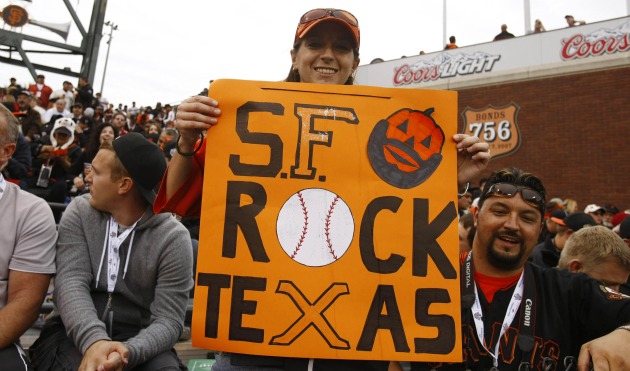 By Evan Brunell
FACEBOOKIN': Oh, the things you can find out.
A group of Facebook data scientists got together and analyzed all 30 teams' fan pages on Facebook as well as status updates of its fans.
"While the U.S. may be a country of 50 states, to fans of Major League Baseball, it's a country of thirty teams, each with its own sphere of influence," the report stated.
So what was found?
For one, the World Series last season that opposed the Giants and Rangers pitted America's most liberal baseball fans against its most conservative. Not that much of a surprise given each team's respective locations. But the Giants were also part of a list of fans that were young and single. The two teams that paced baseball in having the youngest and most available fans were the Athletics and Blue Jays. On the opposite end of the spectrum, a Cardinals, Reds or Tigers fan is more likely to be older and married.
How about popularity? There are plenty of teams that "vie for popularity in Southern California, [but] teams like the Braves are dominant over most of the South," the report said.
The most popular team, though, was the Yankees as a fan "liked" the team every 1.5 teams. Bringing up the rear were the Nationals with over five teams liked per fan. (San Francisco Chronicle)
READYING FOR SUNDAY: Barry Zito is expected to make his start Sunday after coming through a throwing program Friday with no repercussions. Zito is still recovering from a car crash Wednesday night that has left him with a stiff neck. (San Jose Mercury-News)
FRENEMIES: A nice feature story on both Ed Wade and Ruben Amaro. Amaro, of course is the GM of the Phillies that has made bold moves lately to create a vaunted rotation while Wade hired Amaro to the front office and preceded Amaro as GM of the Phillies back in the dog days of Philly baseball before Pat Gillick came in and turned things around. (Philly.com)
BACK HOME: It was a strange return to Texas of sorts for Red Sox catcher Jarrod Saltalamacchia, who made his second straight opening start in the Rangers Ballpark in Arlington. Of course, last year he was a Ranger and ended up delivering the first game-winning hit of Texas' 2010 season. "I've got nothing but good things to say about Salty," Rangers manager Ron Washington said. "The guy works his butt off. The tools are there, but it's like anything else. Talking and writing about it is one thing. Getting it done between the lines is another." (Ft. Worth Star-Telegram)
STOP CHEWING: Commissioner Bud Selig fully intends to attempt a ban on smokeless tobacco in the next round of labor negotiations. He may have a difficult time getting the ban in place. Where's the line between what baseball can demand and a player's on personal choice? (MLB.com)
MMM, FOOD: Here's an interesting list of the best new food at ballparks for 2011. Topping the list is the "Meat Lover's Hot Dog" that is being rolled out in Cincinnati. It's a quarter-pound hot dog wrapped in bacon, deep-fried and then topped with pepper, jack cheese and fried salami. Sounds delish, but also sounds right in line with America's obsession with pigging out and then complaining about being obese. (Mantestedrecipes.com)
LINEUP CONTROVERSY: Brennan Boesch is in the lineup for Saturday's tilt against the Yankees, while presumed starting left fielder Ryan Raburn has hit the bench. That creates lots of questions about just what is the status quo in Detroit. (Detroit News)
NOT ROLLING IN MONEY: Forbes created a bit of a stir by revealing the Padres had the highest operating income last season at $37.2 million. Does that mean San Diego is pocketing money rather than reinvesting it back into the team? Not quite, as Forbes could have overstated the amount of profit by the team as much as $10 million. (San Diego Union-Tribune)
OVERCLAWING: The SEC believes Irving Picard is taking things a bit too far in his fee requirements in his capacity as trustee overseeing Bernie Madoff's financial empire. Picard is supposed to return the money to its rightful owners and yet could threaten the $2.5 billion fund of the government-sponsored nonprofit organization that manages the liquidation of failed brokerage firms in personal fees. (New York Daily News)
For more baseball news, rumors and analysis, follow @cbssportsmlb on Twitter or subscribe to the RSS feed.