By Evan Brunell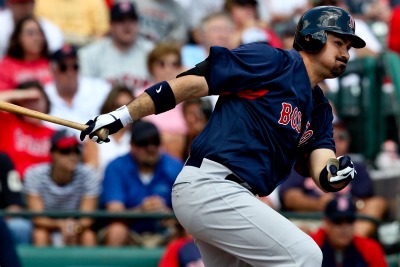 On Friday, Adrian Gonzalez made his debut as a Red Sox in Rangers Ballpark, where he made his major-league debut before being traded to San Diego and breaking out.
As GM Jon Daniels reflected on the trade, he admitted it was a mistake compounded by the fact the Rangers were trying to stay competitive. Texas was coming off an 89-73 campaign in 2004 and then disappointed with a 79-83 record the following year. That motivated Daniels to deal Gonzalez, outfielder Terrmel Sledge and pitcher Chris Young to San Diego for starting pitcher Adam Eaton and Akinori Otsuka.
Gonzalez developed into one of the game's best hitters while Young had a nice run in the middle of the Padres rotation. Meanwhile, Adam Eaton fell flat on his face with a 5.13 ERA in 13 starts, then left as a free agent. Otsuka had a nice run in Texas, but only lasted two years before injuries derailed his career.
"I know that at the time, when Mark Teixeira was here, it led to a lot of clubs making an assumption that we would trade him, that we wouldn't be able to keep both of them," Daniels told WEEI. "We did get some inquiries on him [prior to the San Diego trade]. We didn't obviously project him to be the superstar that he's become. Clearly, had we known that, we would have found a way to make it work. But we thought he was going to be a good player. At a young age, he was always a guy we thought would hit. The question was how much power. He's matured into one of the better power hitters in the game, clearly."
It wasn't the trade of Gonzalez that rankles Daniels to this day, however. It's how the team got away from its model and made an ill-fated gambit to contend immediately.
"Our error in that was not so much our evaluation of Adrian," said Daniels. "Our biggest miss in that situation was really our evaluation of our club, where we were competitively and in the division. We thought that there was a window there in '05-'06 to really push. We won 89 games [in 2004], were a .500 club in '05, hadn't made too many changes. Our [front office] group came in in '05. We probably tried to step on the gas before we were ready. Not probably – we did."
That influenced Texas' moves this offseason, foregoing short-term signings or trades that would have given up long-term assets by signing third baseman Adrian Beltre to a five-year deal.
"We think we had a good nucleus and wanted to add to it, make another run at it," Daniels added. "We had some opportunities to bring in some great players on short-term moves that didn't really fit for us on what we were trying to do. We always try to find that balance between now and the next few years. We'll see how it plays out, but we didn't want to shoot ourselves in the foot and go 100 percent, all in. We wanted to find that balance. That's our model."
That model is in part, Daniels admits, to mirror what the Red Sox have done over the last decade.
"The hope is that this is a window of opportunity we can capitalize upon, but there are a lot of clubs that have looked to do just that and haven't been able to accomplish it," Daniels noted. "To me, what Boston has done over the last decade is something kind of special, kind of unique. They're in there year-in, year-out. That's what we're striving to be -- not be grouped with also-successful clubs that don't get back there."
For more baseball news, rumors and analysis, follow @cbssportsmlb on Twitter or subscribe to the RSS feed.