By Evan Brunell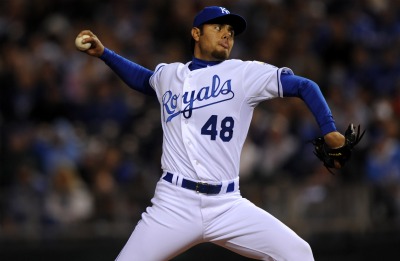 Ned Yost plans to deploy a two-tiered bullpen this season, sticking with a certain subset of pitchers if the game is close. While the tiers could change based on performance, Yost prefers set roles. This means one would have to pitch extremely well to be promoted out of the lower tier, while someone in the top tier would have to implode over a period of time to be removed from the role.
"I use a gauge of three runs or more," Yost told the Kansas City Star. "If we're within three runs, I'll stick with one set of guys. When we get past three, I'll generally go with the other guys."
Closer Joakim Soria (pictured) is obviously at the top of the most important tier as closer. However, Yost is hoping to use Soria only in save situations and therein, only in one inning. That leaves high-pressure innings for Kanekoa Texeira, Aaron Crow, Tim Collins and Robinson Tejeda. It's not a bad list to have, but it wouldn't surprise many for Texeira to find himself in the lower tier as the season goes on.
That's more because of a certain name in the lower tier that will be pitching at the end of games before long if all goes right. Jeremy Jeffress made the team out of spring training and with a wicked fastball could quickly become one of the more feared relievers in the league. For now, however, he'll act as a reliever tasked with not letting the game get out of hand along with Sean O'Sullivan and Nate Adcock. Before long, Jeffress should move up the pecking order and Texeira appears the most likely to move down given he's a rather average arm.
Yost isn't alone in managers preferring a two-tiered structure, but it's not often you hear a manager clearly splitting the bullpen in two groups. Given Yost doesn't like to make immediate changes. Speaking about the lineup, he said he prefers to set a lineup and have it in place for an amount of time before making moves.
"I don't like fluctuating a lineup from day to day," Yost said, "because players start thinking, `I've got to go four for four in order to stay in my spot.' It puts undue pressure on them, right?"
It's a valid point when it comes to the lineup, but it doesn't quite apply to the bullpen. After all, if Texeira has two straight lousy outings and Jeffress impresses in cleaning up the mess, will Yost really go to Texeira again the very next game in a high-leverage situation? As volatile bullpens can be, Yost needs to make sure he's flexible on a day-to-day situation with the bullpen. There's far less impact mentally on a reliever seeing a modified change in role until he gets situated as opposed to dropping someone briefly in the lineup.
For more baseball news, rumors and analysis, follow @cbssportsmlb on Twitter or subscribe to the RSS feed.