By Evan Brunell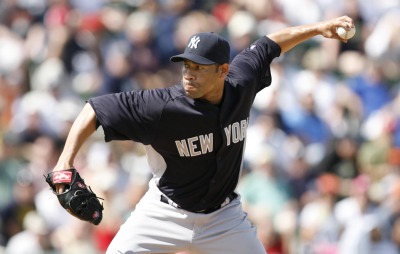 Pedro Feliciano, signed by the Yankees to be a weapon from the left side in the bullpen, has been struggling with a triceps injury. Speaking on Saturday, Cashman does not believe the former Met will be able to return until the end of April and had some choice words for his ex-employers, saying the Mets "abused" Feliciano as Jim Baumbach of Newsday reports.
The 34-year-old spent his entire career with the Mets, missing all of 2005. It took until 2006 for the Mets to really see what they had, and started using Feliciano a lot more. He appeared in 64 games for 60 1/3 innings in 2006, then followed it up with 78 games and 64 innings. Then, he really spiked, appearing in 86 (53 1/3 IP), 88 (59 1/3 IP) and 92 (62 2/3 IP) games, respectively, the last three years.
Mets pitching coach Dan Warthen shot back after hearing Cashman's comments, saying Feliciano wanted the ball as much as possible as he felt he had a better rhythm when pitching more often, as the New Jersey Star-Ledger says.
"I feel badly that someone feels that way, but that was part of the reason we decided not to re-sign him," Warthen added via David Lennon of Newsday, also pointing out that this should not have been news to Cashman, who signed up to a two-year, $8 million deal in the offseason.
Cashman acknowledged the injury risk, saying he was aware of it when he signed Feliciano. Of course, that doesn't change the fact the Mets still abused him as Cashman feels, but it's tough to cry about it after signing Feliciano. Clearly, Cashman felt -- and said exactly this -- that Feliciano was one of the best relievers in what was a limited market. Still, Feliciano's long-term history is a crapshoot, as Cashman crossed his fingers when asked about his confidence in Feliciano's long-term health.
Appearing in 92 games is a ridiculous number, but was Feliciano really abused? If he feels like he needs to pitch often to keep his repetition up, the Mets were simply trying to accomodate him while maximizing his value to the Mets. In addition, it's not as if he racked up 92 innings -- his 62 2/3 innings therein mean that most of his outings were very short. The counter to this, of course, is that Feliciano had to warm up many times and come in to perform at a high level in what was most often appearances on consecutive days.
For more baseball news, rumors and analysis, follow @cbssportsmlb on Twitter or subscribe to the RSS feed.