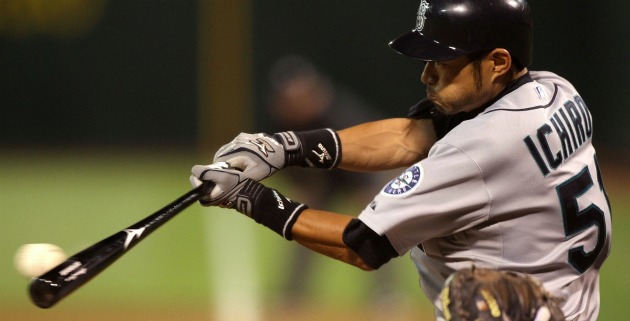 By C. Trent Rosecrans
Edgar Martinez isn't in the Hall of Fame, but he has a heck of a case.
Martinez is one of eight players -- along with Ted Williams, Babe Ruth, Stan Musical, Rogers Hornsby, Lou Gehrig, Manny Ramirez and Todd Helton -- to have 300 home runs, 500 doubles, a career .300 batting average, a career on-base percentage better than .400 and a career slugging higher than .500.
The former Mariners designated hitter finished his career with a career 147 OPS+, while hitting .312 in 18 seasons. Martinez made seven All-Star teams and won five Silver Sluggers as a designated hitter. In 2004, Major League Baseball renamed its Outstanding Designated Hitter Award for Martinez.
In short, Martinez was a phenomenal hitter.
And with 2,247 hits, Martinez had led all Mariners in career hits until Saturday night when Ichiro Suzuki broke his mark with two hits in the Mariners' 5-2 victory over the A's.
It took Martinez -- as we noted, one of the best hitters of his generation -- 18 seasons to amass 2,247. Ichiro passed it in the second game of his 11th season.
Sometimes I think it's easy to forget just how good Suzuki is. Maybe because he plays in the late games and the Mariners haven't been good lately, but Suzuki's career is one for the ages.
In each of his first 10 seasons, Suzuki has had at least 200 hits. He's already the Mariners' career leader in stolen bases (386), triples (71) and batting average (.331) and needs 425 at-bats to pass Martinez in that category.
If you add the 1,278 hits Suzuki had in his time in Japan, he has 3,526 career hits and could finish his professional career with more hits than Pete Rose's 4,256 in the big leagues. While not quite the same and not the MLB record, it'd still be an impressive feat, especially with shorter seasons in Japan.
Martinez passed Ken Griffey Jr. as the team's all-time hits leader on April 3, 2001, just days into Suzuki's tenure with the Mariners. The two played together for several years, and Suzuki said Saturday he was humbled by passing Martinez.
"Today I broke his record. When you look at his numbers, that's a fact," Ichiro said through interpreter Antony Suzuki (via MLB.com). "But he is a hero back in Seattle. He is my hero as well. When you look at his existence, he's a lot bigger than I am, being a great human being as well. So that's how I look at it.
"I played with Edgar for years. That's something that is important to me. That's precious. That's a treasure to me. That's what I honor as well."
Royals' FUTURE FLUSH -- After the Royals beat the Angels on Saturday, it was time for the real show -- Kansas City's Double-A and Triple-A teams faced off at Kauffman Stadium to a healthy crowd ready to see baseball's most hyped prospects in person. About half the crowd of 18,022 for the Royals-Angels game stayed to watch the likes of Mike Moustakas and Eric Hosmer. [Kansas City Star]
NO PLATOON FOR PANDA -- Giants manager Bruce Bochy has assured Pablo Sandoval that he will not be part of a platoon at third base this season. Sandoval sat against lefty Ted Lilly on Saturday, but that was a matchup thing, Bochy told him. [San Jose Mercury News]
WAITING FOR HOLLIDAY -- The Cardinals aren't going to put outfielder Matt Holliday on the disabled list right away, hoping to avoid a trip altogether. Holliday had an appendectomy on Friday and was discharged from the hospital on Saturday. The Cardinals will wait a couple of days to see whether Holliday will be able to come back in time to avoid a DL trip. [St. Louis Post-Dispatch]
DEBUT -- Zach Britton may have been the Orioles' best starter this spring, but when time came for the final cuts, he still found himself headed to Triple-A Norfolk -- until the Orioles' best rookie of 2010, Brian Matusz, was placed on the DL with a left intercostal muscle strain. Britton, who had a 1.35 ERA in spring, will start today against the Rays. [MLB.com]
FAMILIAR FACE -- Roy Oswalt will make his first career start against Houston today. [MLB.com]
MAGGLIO OUT -- Magglio Ordonez isn't playing in today's game against the Yankees because of a sore right ankle. Ordonez was lifted for a defensive replacement in the sixth inning of Saturday's loss. Tigers manager Jim Leyland said it was mostly a precautionary move. [MLB.com]
DANKS OK -- John Danks had some dental work on Saturday, but won't miss his start today against the Indians. [MLB.com]
LONG NAME, LONG LAYOFF -- Nationals lefty Tom Gorzelanny will have 15 days between his final spring training start and his first regular-season start on April 9, but he is unconcerned. [Washington Post]
Padres LOVE THE BUNT -- The Padres new No. 3 hitter, Orlando Hudson, laid down a sacrifice bunt in the fifth inning of Saturday's game against the Cardinals. The Padres have had their No. 3 hitter sacrifice 20 times in the last 20 years. [Ducksnorts]
AARDSMA CLOSER -- The Mariners may get closer David Aardsma back sooner rather than later, manager Eric Wedge told reporters. [Seattle Times]
CLOSE SHAVE -- Rays starter Wade Davis will shave his head -- well, at least the top of it, his beard is staying -- following today's game. The shave is for the Pediatric Cancer Foundation's Cut for a Cure and is hoping to raise $10,000. As of Saturday, he'd raised $8,000 with his vow to go bald. [Tampa Tribune]
30-DOWN -- How Brian Wilson got into the New York Times crossword puzzle. [New York Times]
DIFFERENT WAY TO THE BIGS -- Former 16th-round draft pick Griffin Benedict has given up his dream of playing in the big leagues, instead accepting the Padres' offer of joining the team as its second bullpen catcher. Benedict is the son of former big-league catcher Bruce Benedict. He hit .229 at low Class A Fort Wayne last season. [San Diego Union-Tribune]
PATCH FEVER -- There's a total of eight memorial patches on MLB uniforms this summer. The Reds, Tigers, Pirates, Indians, Phillies, Dodgers, Cubs and Mariners are all sporting patches honoring people who have passed in the last year. While the Indians have gotten rave reviews of their Bob Feller patch (and for good reason), I'm a really big fan of the Pirates' Chuck Tanner patch as well. [Uniwatch Blog]
AT-BAT MUSIC -- Reds official blogger Jamie Ramsey has a list of all the at-bat music for the Reds this season. [Better Off Red]
WHITE TELLS ALL -- The New York Times has great things to say about Bill White's new book, Upity, about his time in baseball, both as a player and a league official.
BOW TIE -- Nice story from FOXSports.com reporter Ken Rosenthal on why he'll wear a bow tie on all telecasts this season. I thought it looked great, and glad to see the direction he's taken it. Good for Ken and Dhani Jones. [FOXSports.com]
FREE GAMES -- If you have the MLB At-Bat for the iPhone, iPad or Android devices, you'll get MLB.tv for free during April. If you're reading this and have an iPhone, iPad or Android device, you need to spend the $15 for the At-Bat app and this just makes it an even better deal. (You do have to buy separate apps for each device, but it's still totally worth it.) [The Unofficial Apple Weblog]
For more baseball news, rumors and analysis, follow @cbssportsmlb on Twitter or subscribe to the RSS feed.