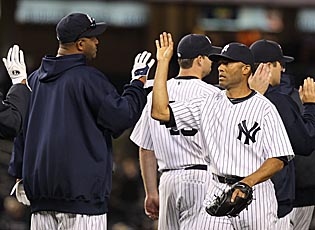 By Matt Snyder
The specific total payroll numbers for each major-league club in 2011 have been released by
USA Today
. To the surprise of no one who follows the sport, the New York
Yankees
sit comfortably atop the sport, checking in at a payroll of $202,689,028. The average player salary for the Bronx Bombers is $6.76 million.
On the other hand, the team with the second-highest payroll actually did come as a bit of a surprise, as the
Phillies
' near $173 million is ahead of the
Red Sox
($161 million and change), who were third.
The
Angels
,
White Sox
,
Cubs
,
Mets
,
Giants
,
Twins
and
Tigers
rounded out the top 10. Two more teams have a nine-figure payroll (
Cardinals
and
Dodgers
).
On the bottom end, the Kansas City
Royals
were dead last, with a paltry $36,126,000 payroll. The
Indians
,
Padres
,
Pirates
and
Rays
all also have a payroll under $50 million for the season.
The list is sure to stir up the fight pitting fans of the "have" teams against those who cheer for the "have nots," but let's all keep in mind the operating income -- as
the Yankees made money last year
while the Tigers, Red Sox and Mets lost money. And some of the small market teams are making good money. The Padres had an operating income of over $37 million, for example. All this proves is that while the system has flaws, don't expect it to drastically change anytime soon. When 27 of the 30 teams are making money, there's no incentive for change.
For more baseball news, rumors and analysis, follow @cbssportsmlb on Twitter or subscribe to the RSS feed.