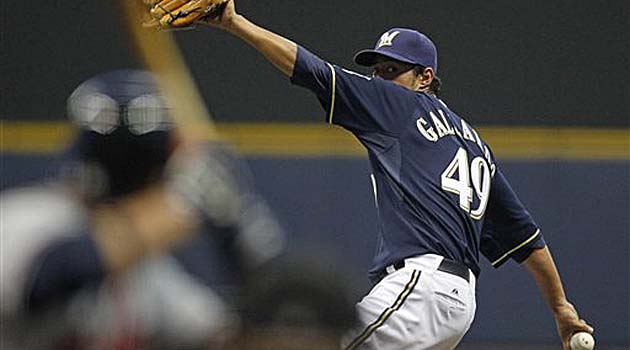 By Matt Snyder
Lots of great performances Tuesday, so remember this is no all-inclusive list. There were also
some young arms that excelled
-- oh, and don't forget about
the lanky toast of Queens
. On the flip-side, there were some pretty equally dreadful performances. Basically, we're finally getting settled into a routine regular season. Thank the lord. Anyway, here we go.
3UP
Yovani Gallardo
,
Brewers
. Had the Brewers' ace come through with merely a good outing, so long as it resulted in a victory, it would have been the biggest performance Tuesday. They desperately needed to get a win out of the way. Instead of simply being good enough, Gallardo did what a true ace does: He put the team on his shoulders. The offense hasn't hit well since opening day? No issue. All he needed was one (and, yes, that's all he got). The bullpen keeps melting down? No worries, Gallardo didn't need 'em. The 111-pitch complete game, two-hit shutout was a beauty in so many ways. He was easily the most important player in all of baseball Tuesday.
Melky Cabrera
,
Royals
. Teammates
Billy Butler
and
Alex Gordon
had big blows leave the yard, but Melky's walk-off single propelled the now 4-1 Royals to a 12-inning victory. He was 3-6 with three RBI in the game.
Marlon Byrd
,
Cubs
. After beginning the season just 3-18, Byrd went 3-4 Tuesday, his last hit being an RBI double that put the Cubs on top for good after a bullpen meltdown.

3DOWN
Manny Ramirez
,
Rays
. According to various tweets, he's already drawing boos from the hometown fans. It's not like he's in Boston or New York. He's drawing boos in laid-back St. Petersburg. It's hard to argue with the locals, either. Manny B. Manny was 0-4 with three strikeouts and three men left on base Tuesday. That means he's hitting .063 with zero extra base hits, zero walks and a .126 OPS thus far. Let's give him lots more at-bats before sounding the alarm -- small sample size and all -- but it's entirely possible his illustrious career is running on fumes.
J.A. Happ
,
Astros
. Not many more ways to say it. Happ was flat out dreadful against the
Reds
. He should blend right in with the rest of his team, I guess. In four innings, Happ gave up seven hits, five walks and seven earned runs. He walked in two guys and hit in another -- that's a hit-by-pitch with the bases loaded, not a base knock for his team. The Astros are 0-4 and have looked pretty awful -- though we should point out opening at Philly and Cincy isn't too easy.
Rafael Soriano
,
Yankees
.
Mark Teixeira
's hot bat and
CC Sabathia
's lockdown pitching had the Yankees cruising to victory through seven with a 4-0 lead. Soriano entered. Walk, line out, walk, single and strikeout read the line after five hitters. Still, no runs had yet scored and there were two outs. But then Soriano walked
Joe Mauer
and allowed
Delmon Young
to clear the bases -- and more importantly tie the score -- with a double. Then, after the game, Soriano pulled a no-no when he refused to talk with the New York media. For a sampling of how the reporters feel about the situation -- and how they believe the other players feel as well --
check out this Twitter feed
.
For more baseball news, rumors and analysis, follow @cbssportsmlb on Twitter or subscribe to the RSS feed.