By Evan Brunell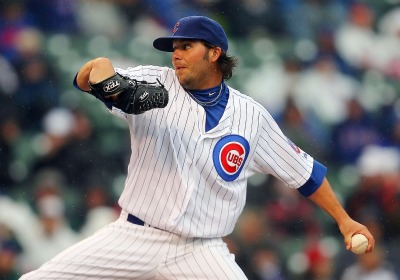 Earlier Wednesday, the Cubs were forced to place two starting pitchers on the disabled list in Andrew Cashner and Randy Wells.
While one replacement in Casey Coleman has already been determined, it's unclear just who will fill the second vacant spot in the rotation. If Carlos Silva hadn't been so pigheaded, it could have been him, but so it goes.
The Cubs aren't tipping their hand just yet, preferring to use Thursday's off day to evaluate all options. However, the early frontrunner appears to be James Russell, as the Chicago Sun-Times writes. The lefty is beginning his sophomore season after spending most of the entire 2010 season in the Cubs' bullpen. He has some starting experience in the minors, making 25 starts for Double-A in 2008 and 12 starts between Double- and Triple-A in 2009 although most of his time in the upper minors were out of the bullpen.
"If that is a real possibility, great," Russell said, who was stretched out in March as he was considered for a rotation spot. "They haven't really told me anything about it. I'm sure we'll talk in the next couple of days or so, but if that were to happen, that'd be pretty cool."
Also under consideration for a spot is Thomas Diamond, who will pitch the season opener for the Cubs' Triple-A affiliate on Thursday. That would put him in line for a Tuesday spot start, and Quade may prefer a starter to step in as Russell would unlikely be able to go even five innings.
"Nothing's been decided," manager Mike Quade said of the spot, "but [Russell] did [start] some this spring, and he's done it before. ... A stretch-out for him is three or four innings. That's not ideal. So that's probably one of the things we're going to talk about. But he's in the mix for sure."
Given the Cubs do not need to make a decision until Tuesday, they are likely to recall a reliever to serve out of the bullpen until a decision is reached.
For more baseball news, rumors and analysis, follow @cbssportsmlb on Twitter or subscribe to the RSS feed.