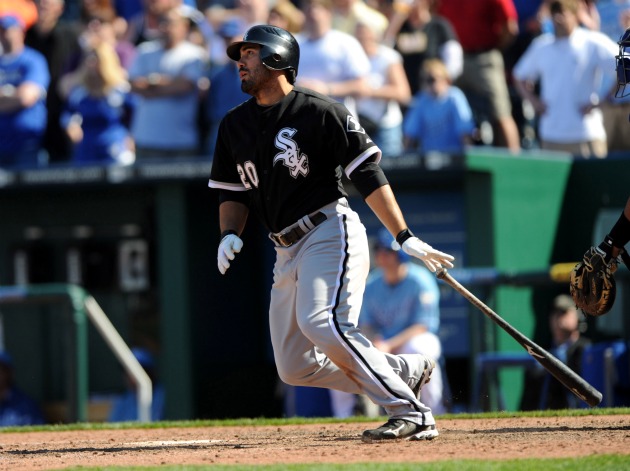 By Evan Brunell
3 UP
Nick Hundley, Padres -- Tim Lincecum had a Freak-type day, and Hundley was the only Padres starter to avoid a strikeout and also poked the beast by whacking a solo home run against Lincecum in the third inning, the only run Lincecum would give up on a day where he walked none and sent 13 by way of the K. Hundley's off to a scorching start, a nice start in his first year where he's been handed the full-time starting job.
Carlos Quentin, White Sox -- It's just another day at work for Carlos Quentin, who had four hits by bashing a solo home run in the eighth to portend the uprising, then seal the four-run outburst the next inning with a double. Q is now batting .500/.522/1.000 in the early going and hauled in the 10th RBI of the season which is tied with Mark Teixeira for tops in baseball and also leads in batting average.
Justin Verlander, Tigers -- Verlander baffled the surging Orioles by going eight long and coughing up just four hits, whiffing nine and giving out two free passes. That kept Orioles hitters plenty busy, but Derrek Lee was able to notch a two-run blast off the righty, who could easily walk away with the Cy Young Award this season.
3 DOWN
Mike Minor, Braves -- Minor lost the No. 5 starting job to Brandon Beachy, was demoted to Triple-A and later saw Beachy spin a fine start. Then, Minor got a break in Jair Jurrjen's injury setting him back and drew a spot start Wednesday. Good time to impress, right? Try 4 1/3 innings, seven hits, five earned runs and four walks, with a paltry two whiffs. Minor still has a bright future ahead of him, but it does appear he needs some more Triple-A seasoning.
Vernon Wells, Angels -- Not a great start to the season for Wells, who made headlines for all the wrong reasons in the winter due to having what could be the most overpaid contract in the game and still somehow being dumped on the Angels for a forgivable cost. He whiffed three times in five trips to the plate, going hitless but scoring a run thanks to reaching first on an error.
Joakim Soria, Royals -- The Royals were all set to move to a surprising 5-1 to start the season, but Soria had other plans. Coughing up four runs, Soria allowed the White Sox to take the edge by a run in the top ninth. A well-timed double by Kila Ka'aihue pushed the game to extra innings, but the White Sox pasted three on in the top 13th to win. Soria lost the game in convincing fashion, giving up four hits and walking one while striking out zero.
For more baseball news, rumors and analysis, follow @cbssportsmlb on Twitter or subscribe to the RSS feed.