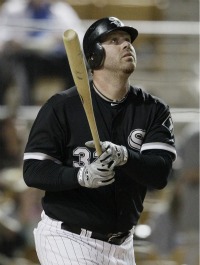 By C. Trent Rosecrans
The only person surprised Adam Dunn wasn't playing today after an emergency appendectomy early Wednesday morning in Kansas City was Dunn himself. Although, Dunn still hopes to be back for Friday's game against the Rays.
"I thought I would be a lot better than what I am and it's very disappointing, actually," Dunn told MLB.com's Scott Merkin. "I tried everything last night and today to do it and it ain't happening.
"I'm really disappointed that I'm not plaining in this game today. I know it probably doesn't mean a lot, just another game to a lot of people, but home openers are really special -- especially when it's your first one. I definitely wanted to be out there and it's not going to work."
Dunn was in uniform and participated in the team's presume ceremonies. He said he'll return when he feels he can swing.
"It's not the pain," Dunn said. "I feel like when I swing, my belly button is going to go shooting at the pitcher. That's a bad visual. Seriously. That's what it feels like."
Dunn, of course, is the second high-profile player to undergo an appendectomy this season, along with St. Louis' Matt Holliday. Holliday played in the Cardinals' opener, but hasn't played since. He is expected back soon.
Dunn has an advantage that he plays in the American League, so he doesn't have to play in the field.
"I can function. I didn't get my leg chopped off," Dunn said. "It's just sore and kind of tough to move around. I definitely wasn't going to stay at home, that's for sure."
Dunn had said Wednesday that he wasn't going to miss Thursday's game.
"I'm a quick healer, like Wolverine," Dunn said. "I asked the doctor yesterday how long these things take and he gave me a general answer for the public. I'm subtracting 15 days off it. If I can tolerate [the pain], then I want to play. I don't mind playing when I'm not 100 percent."
Dunn has played in at least 152 games in all nine of his full big-league seasons but one.
For more baseball news, rumors and analysis, follow @cbssportsmlb on Twitter or subscribe to the RSS feed.