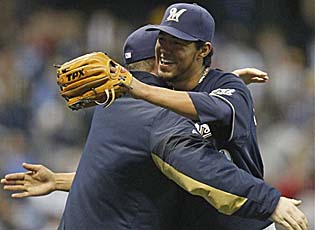 By Matt Snyder
I love stats, including the overwhelming majority of the sabermetrics. I love the concept behind using the largest sample possible and not overreacting to just a few games. It's just that there's something no number can account for, and that's the fact that human beings are playing baseball. Robots wouldn't press or make mental errors. Humans do. And when you enter a season with big expectations, starting with a string of losses really can mentally wear on a team.
So if you look specifically at the
Red Sox
and
Rays
, an 0-6 start is bad. You can talk about it being early (it is) of how much of the season is left (96.3 percent of it, in fact), but until that elusive first victory is achieved, the players who genuinely care are going to start carrying around an enormous weight on their collective chests. If you strongly disagree with that sentiment, you either A) have never played baseball; or B) believe that making millions of dollars leaves players void of human emotions. Or both.
What the Rays and Red Sox need right now is to get a dominant performance from someone. It doesn't even matter who. Whether it's a pitcher throwing a shutout or an offensive player dropping three bombs in a game, someone has to explode and it will set everyone else at ease. It could even be a big inning early in a game from the entire offense -- as jumping out to something like a 6-0 lead would do wonders for the psyche. From there, things get back to normal and they can just play ball.
Look no further than the Milwaukee
Brewers
. Just three days ago, the sky was falling in Milwaukee. A team many expected to win the NL Central -- or at the very least, push the
Reds
-- had started 0-4.
Enter
Yovani Gallardo
. The 25-year-old pitcher put the team on his back, throwing a two-hit shutout against a potent
Braves
' offense. The bullpen had already blown two wins, so he just fired a complete game. The offense hadn't been firing on all cylinders, so he just didn't allow a run. Boom, losing streak over and the entire club can relax and just play baseball.
Low and behold, the Brewers have now won three games in a row and sit at 3-4. That isn't great, but it's not horrible -- especially after starting with the Reds and Braves and being without
Zack Greinke
and
Corey Hart
. You can call it a progression to mean if you want, and it is. But someone had to step up and get the team on track. Gallardo did.
All it takes is one game to get everyone out of the funk and relax. The Red Sox and Rays just need someone to step up and pull a Gallardo. Then they can concentrate on the 95-plus percent of the season that remains.
For more baseball news, rumors and analysis, follow @cbssportsmlb on Twitter or subscribe to the RSS feed.