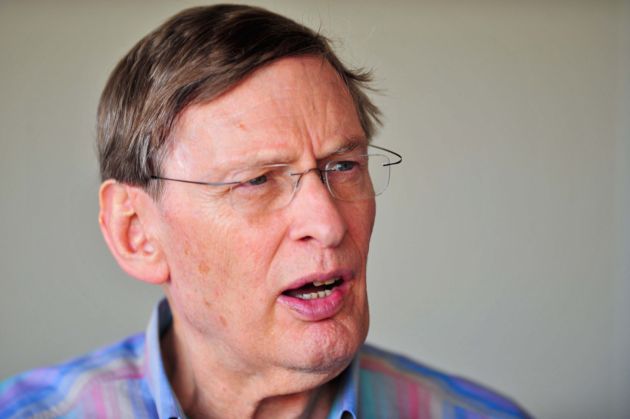 By Evan Brunell
STILL BIKIN': 1,000 straight days. That's how long Bud Selig has been using his exercise bike which is an impressive accomplishment. That means Selig's hopped on a bike literally every day for almost three years.
As someone who works out regularly and hates taking off days, that's an amazingly impressive feat that should be commended. The 76-year-old usually bikes for 53 minutes and then does a total of seven minutes of exercise. That's enabled him to keep in shape and he could have plenty of years ahead as a commissioner even if he plans to step down after 2012.
It may surprise you to learn that Selig wasn't always so healthy.
"I was smoking Tiparillos at the time," Selig recalled from 1980, when he was the Milwaukee Brewers president, "and Dr. [Paul] Jacobs said: 'We've got to get you into an exercise program ... I don't want you running; you'll end up with bad knees, bad ankles, bad feet, bad everything.'"
And so the bike program was born. Selig should absolutely be thrilled with his accomplishment, as its simply not easy to do with his age and schedule.
"I'm very proud of it," Selig said. "When I finished exercising [Thursday morning] I was like a little kid." (MLB.com)
MLB TODAY: Dan Shaughnessy of the Boston Globe hops onto CBSSports.com's MLB Today to talk Red Sox.
DONATING FOOD: This is a fantastic idea and makes you wonder why this isn't more widespread. The Pirates will be donating left-over concessions to shelters and soup kitchens to help feed the hungry. That could mean over 250 tons of food otherwise sent to the compost heap. (Pittsburgh Post-Gazette)
AVOIDING FOOD: Don't read this if your stomach gets queasy fast or you've eaten at some of the worst violators of food safety, as this article details which ballparks are the worst and why. (BusinessInsider.com)
BLACKOUT: MLB.com's blackout policy has been nothing short of idiotic the last several years and frankly, it appears that won't change anytime soon. That's a disgrace, as the blackout policy is completely nonsensical. Between this and refusing videos from MLB.com to be embedded onto other sites ... while baseball is a great leader in internet and social media, baseball completely whiffs on the basics. (BizofBaseball.com)
REHABBING: Jake Peavy will make his first rehab start Friday and will make three more before his target of returning to the club in early May. (Chicago Tribune)
ON THE VERGE: Adrian Gonzalez is closing in on a deal to make him a Red Sox for a very, very long time. (Boston Herald)
CALL CSI: Chris Coghlan made an impressive catch Thursday -- so impressive, in fact, that someone felt compelled to sketch Coghlan's outline onto the wall. (@ericreinhold on Twitter)
PUT UP OR SHUT UP: Greg Reynolds was picked ahead of Tim Lincecum, Clayton Kershaw and Evan Longoria while Reynolds is scrapping to become a viable major leaguer. He believes it's time for him to "put up or shut up." The Rockies would appreciate the former. (Denver Post)
LINEUP OF A LIFETIME: It's always fun to put together lists of the best players you've seen play in your lifetime. Well, Derrick Goold went ahead and listed his own lineup and pulled in several other people to participate. (St. Louis Post-Dispatch)
WRONG SPORT? Former NC State quarterback Russell Wilson's transition to full-time baseball wasn't going so great Thursday as he went 0 for 4 with four strikeouts for Colorado's low-Class A affiliate. (Baseball America)
ONION: The Onion is a hilarious satirical website, and they haven't shied away from poking fun at baseball over the years. Here's a look at the top 25 baseball-related Onion articles. (Fangraphs)
For more baseball news, rumors and analysis, follow @cbssportsmlb on Twitter or subscribe to the RSS feed.