By Evan Brunell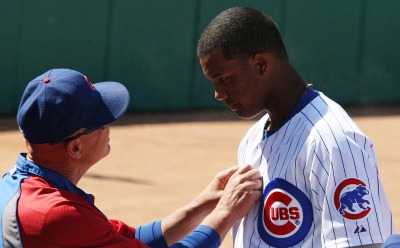 It took 22 at-bats before Starlin Castro swung and missed at a pitch this season, only accentuating the special talent the Cubs have on their hands.
"There's no doubt he's a special talent. No doubt," Cubs' batting coach Rudy Jaramillo told the Chicago Tribune of the 21-year-old who is entering his first full season of many to come as Cubs starting shortstop. Castro posted a .300 batting average in 506 trips to the plate last season, also adding on a .347 OBP and .408 slugging percentage. That's scary from a 20-year-old who is expected to fill into his body and add some more power.
"He's the next Ichiro," a friend had proclaimed to this author recently. It sounds like Jaramillo might concur when talking about such lofty expectations.
"One thing that's really big is he has that 'feel' for such a young kid," Jaramillo said. "He takes me through his at-bats, pitch-to-pitch, and he can remember every pitch and every at-bat.
"He's a smart kid. That's a special knack. Those are things you don't get taught. Those are things you 'have' because of ability."
So far on the year, Castro leads the team in batting average, is tied for first in OBP and second in slugging percentage for an overall line of .400/.444/.1.084 in 27 plate appearances. Obviously those numbers won't last, but how many 21-year-olds have a six-game stretch with those kind of numbers?
Ones that eventually end up in All-Star Games, that's for sure.
That doesn't mean Castro's suddenly the best shortstop in the game. Aside from extremely stiff competition in Hanley Ramirez and Troy Tulowitzki, Castro's defense leaves much to be desired and he may eventually be moved off the position once he fills out more.
"We talked last year about this a lot," former Cubs coach Alan Trammell, now in Arizona, said. "He knows he can hit, he really believes that like all good hitters do. But I told him, 'You have to be a shortstop first.'
"He understands that. But you have to remember he just turned 21. He's a good student and he wants to do well. He's going to do well. But there still are going to be some growing pains."
That said, Trammell believes if Castro can stay focused each pitch and not lapse, he could be a Gold Glover. Of course, that isn't saying much because the Gold Glove voting these days is a joke, but the point remains.
Jaramillo, obviously, is more focused on Castro's emergence as a hitter than fielder.
"I just want him to learn to be a big league hitter," he said. "He's going to have power, but I don't want him to get ahead of himself. I tell him the power will come, because he wants to hit with power now and that's where he gets in trouble.
"He has a gift and you have take advantage of it."
For more baseball news, rumors and analysis, follow @cbssportsmlb on Twitter or subscribe to the RSS feed.