By Evan Brunell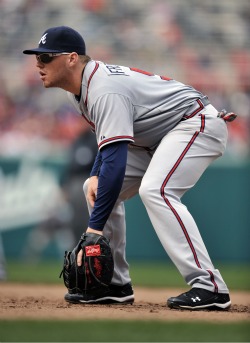 Slow start be damned, Freddie Freeman is still the first baseman for the Braves and that's not changing.
Despite vaulting his batting average up to .167 from .105 after Wednesday's game, the rookie still has a minuscule .167/.167/.333 line in 24 plate appearances, collecting just four hits and one extra-base hit, that being a double.
Quite a far cry from the .319/.378/.521 slash line that the 21-year-old threw up in Triple-A last season.
"To me, and talking to [hitting coach Larry Parrish], it looks like he's expanding the strike zone a little bit, swinging at pitches out of the strike zone," manager Fredi Gonzalez told the Atlanta Journal-Constitution. "Probably trying to create stuff that's not there. That's the case sometimes with young players."
Freeman isn't going anywhere -- unless, obviously, he continues to struggle into the summer months and the team's hand is forced. But the youngster will get every chance to establish himself as the Braves believe he can be their first baseman for years to come.
Another facet of the game Freeman is expected to contribute to the team on is defense, although he's had a shaky moment there already. While he's already proved his worth there, he did make a curious decision THursday by throwing home on a bases-loaded grounder instead of getting the out at first. Weeks scored to give the Brewers an insurance run.
"I think it would have been difficult" to get the out at home, Gonzalez said, "but with him and his arm -- for me, he's not a normal first baseman. He's got range, and he's got a plus-plus arm. So ... I'm not going to get on him about needing to get the out at first base because I've seen him do some stuff that other first basemen cannot do."
For more baseball news, rumors and analysis, follow @cbssportsmlb on Twitter or subscribe to the RSS feed.