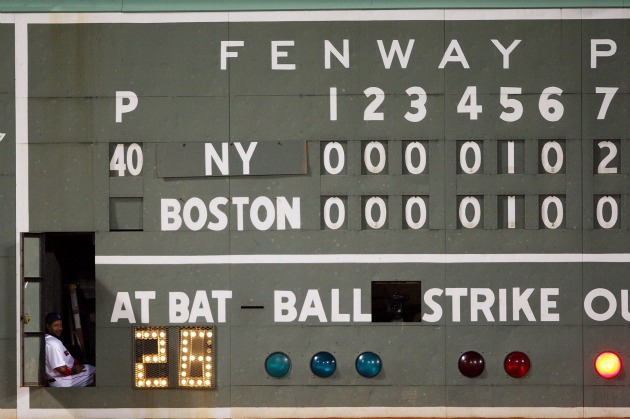 By Evan Brunell
With Manny Ramirez's retirement, he leaves a lasting legacy both on and off the field. Below are some of his classic "Manny Being Manny" moments...
CUTTING OFF DAMON: Perhaps the most seminal moment of Ramirez's career -- check out the video right here -- came on July 21, 2004 when Johnny Damon grabbed a David Newhan ball in the gap. He hurled it toward where cutoff man Mark Bellhorn was waiting, except Manny dove for the ball and snagged it in midair. That gave Newhan an inside-the-park home run.
LOVIN' THE MONSTER: Ramirez liked to enter the Green Monster on countless occasions in between innings rather than, you know, focus on the game at hand. He was spotted talking to someone on a cell phone July 9, 2008 as Javier Lopez was warming up after being called into a game. Five days later, he went inside to sip on a bottle of Gatorade as he waited out a pitching change. But years before that, in 2005, Ramirez actually stayed in the Monster so long he missed the first pitch of an inning. In that year, on July 18, he made his famed bathroom trek into the Monster.
SORE THROAT: On August 30, 2003, Ramirez bowed out of the night's game due to a throat infection. That throat must have needed alcohol to cure it, because he was spotted with Yankees player Enrique Wilson later that night at the Ritz Carlton Hotel knocking back a drink.
SKIPPING THE WHITE HOUSE: You've been there once, you've been enough, right? That's what Manny thinks of the White House, skipping the reception to commemorate the Red Sox's 2007 World Series title. "I'm sorry [David Ortiz'] running mate, Manny Ramirez, isn't here. I guess his grandmother died again. Just kidding. Tell Manny I didn't mean it," then-president George Bush quipped, referring to Ramirez's tried-and-true excuse of his grandmother's death to skip events -- like the beginning of spring training -- that he otherwise did not want to attend.
NEED THAT EARRING: Ramirez was in Pawtucket during 2002 on a rehab assignment when he slid into third base and lost his diamond earring. After the game, the grounds crew along with 13 PawSox players combed the dirt and found the stud, but not the diamond. Ramirez would go on to ask management if he could stay in Pawtucket rather than return to Boston. Hey, Rhode Island's nice.
HIGH FIVE: On May 14, 2008, Ramirez ran down a flyball hit by ex-teammate Kevin Millar. As he jumped and hit the wall, he high-fived a fan before landing, turning around and throwing to cutoff man Dustin Pedroia, who then doubled Aubrey Huff off first base.
CAUGHT STEALING: Did you know Manny Ramirez was actually caught stealing first base? Yep -- Germany Schaefer must be smiling. On August 13, 1997, Ramirez was playing in the first game of a doubleheader against the Tigers when he delivered an RBI single to left in the eighth inning with the team down 13-2. With Jim Thome at bat, Ramirez took off running to second base on a pitch and was safe, but thought the ball had been fouled off by Thome. He started walking back to first base when Willie Blair, the pitcher, tossed the ball to the shortstop who tagged out a jogging Ramirez.
SHOVING OLD MEN: Manny Ramirez shoved traveling secretary Jack McCormick to the ground when McCormick -- in his early sixties -- could not come up with the 16 tickets Ramirez had requested the day of the game. Ramirez later apologized.
WELCOME TO BOSTON: Ramirez's first season in Boston was 2001. On June 23 of that year, he hit an absolute bomb that landed somewhere on the Mass Pike. Despite announcers and newspaper writers feeling it was the longest home run hit at Fenway Park, the official distance was measured at 501 feet -- one foot less than Ted Williams' iconic blast into the right-field stands that is marked by a red seat. Later that year, he would bow out of the final game of the season for "personal reasons." The Red Sox honored Cal Ripken, Jr. that night as it was Ripken's final game at Fenway Park.
TRY TO HUSTLE: There's far too many accounts of Ramirez lazily running down the first-base line and in some occasions, may have been able to reach base if he didn't care enough. But September 9, 2002 takes the cake. After bashing a home run, Manny would ground out and not even bother to run, electing to walk back to the dugout.
GETTING HIGH: Ramirez requested his walkup song in 2002 to be changed on September 7 to Good Times (I Get High) by Styles, a song about drugs and laced with profanity that ended up being played over the PA speaker due to not being double-checked.
THE RED SOX DON'T DESERVE ME: Capping off a disastrous 2008 season, Manny tried and tried, but just couldn't get out of Boston. So instead he decided to take matters into his own hands at the trade deadline of 2008, claiming that his knee hurt and he was unable to play in a crucial game against the Yankees. (Ramirez would do this on multiple occasions; take days off no matter the opponent, situation or if the bench was short.) The Red Sox weren't buying it and took him to have a MRI. Except Ramirez forgot which knee hurt, so the Sox took MRIs of both knees and they came back clean. "The Red Sox don't deserve a player like me," Ramirez would later tell a reporter, which greased the skids out of town.
DREADLOCKS STAYING: Manny Ramirez completely flouted Joe Torre's rules when he arrived in Los Angeles, refusing to cut his dreadlocks. After 11 days as a Dodger, Ramirez said that he and Torre were "talking about it," while Torre remained firm on the subject, saying "I'm not negotiating anything." Guess who won?
GAS IS UP: After the 2008 season, Ramirez was a free agent. When asked about his future, Ramirez responded, "Gas is up and so am I." Indeed, he would go on to sign a two-year, $45 million pact to return to the Dodgers.
OVATION: OK, here's another feel-good Manny story -- or perhaps only if you're a Boston fan. In 2005, when Manny looked like he was going to be traded, he was held out of the lineup on July 31. At the time, David Wells made a classic comment. ''The guy's messing with my cake," Wells said, as the Boston Globe recalls. ''Whatever it is, he better have a great excuse because we need Manny in the lineup. I don't care what, this team needs him." However, he made a pinch-hit appearance in the eighth inning, much to the crowd's delight. A Red Sox fan in college at the time, I'll never forget the chills I got.
PICKED OFF: In Game 2 of the 1995 World Series, Ramirez was picked off first base by catcher Javy Lopez of the Braves in the eighth inning. Cleveland had narrowed the score to 4-3 the inning before, and Ramirez singled with one out in the eighth with Jim Thome striding to the plate. Alas, Ramirez was caught napping for the second out of the inning.
RETIREMENT: Credit goes to Eye on Baseball's Matt Snyder for this one, but how much of a "Manny Being Manny" moment is today's announcement that he was retiring? Ramirez was staring at his third link to a positive drug test, a 100-game suspension and decided it wasn't worth the headache. So much, in fact, he didn't bother to tell Tampa Bay he had retired.
For more baseball news, rumors and analysis, follow @cbssportsmlb on Twitter or subscribe to the RSS feed.