By C. Trent Rosecrans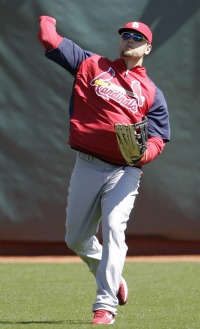 Cardinals left fielder Matt Holliday hopes to return to the lineup Sunday in San Francisco, he told MLB.com's Matthew Leach.
"I don't think that's a stretch," Holliday said Friday after going through his first full workout since undergoing an appendectomy on April 1. "I think Sunday's a definitely a possibility, and possibly even tomorrow depending on [how things go]. I can't say without talking to Greg [Hauch, the team's head trainer], but in my mind, that's definitely a possibility."
Cardinals manager Tony La Russa wasn't quite as optimistic.
"I think that's probably a push," La Russa said. "I'm not saying he wouldn't, because he was in such great shape when he got hurt and we're anxious to get him back, but that seems like a push. But if they give him the green light and he says he's ready to go …"
Holliday is not on the tema's 15-day disabled list, so he can return anytime he's ready.
Meanwhile, Adam Dunn has said he wants to be back as soon as possible, but manager Ozzie Guillen doesn't expect him back before Monday, five days after undergoing an emergency appendectomy.
Dunn could possibly pinch-hit, but Guillen doesn't want to do that, either.
"I'd rather lose a game than lose a guy for another month," Guillen told reporters, including the Chicago Tribune's Dave van Dyck. "If I have to pinch-hit Adam Dunn with the game on the line, I'd rather lose the game than have him hurt himself or lose him for we don't know how long."
Dunn has said he's a fast healer and doesn't expect to be out long. The White Sox start a three-game series with the Rays tonight before hosting the Athletics for three starting Monday. Chicago has an open day on Thursday and then three more home games against the Angels before leaving on a 11-game road trip starting April 18.
For more baseball news, rumors and analysis, follow @cbssportsmlb on Twitter or subscribe to the RSS feed.