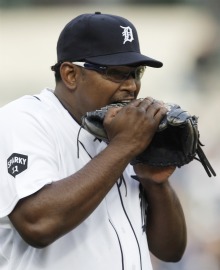 By C. Trent Rosecrans
Tigers closer Jose Valverde said he spit in the direction of a fan, but not on a Baltimore fan on Thursday.
A blogger wrote his account of seeing Valverde spit either at or on another fan. Although the writer, who only lists his first name, Avi, on his blog (2131 and Beyond), writes in the headline the spit was "on" the fan, he takes pictures of a wad of gum he says was spit "at" another fan and the gum is in the Tigers' bullpen.
For his part, Valverde told MLB.com's Jason Beck that in the eight inning of Thursday's loss that he spit in their direction, but didn't -- and didn't attempt to -- spit on the fans themselves. Another reliever, Daniel Schlereth, who was also in the bullpen, backed up Valverde's story.
Valverde said the fan had been yelling at him all game.
"This guy's drinking and drinking, and he doesn't know what's going on in the game," Valverde said. "He started doing a lot of stuff, BS. The thing is, you have to sometimes leave it alone, because they pay for that. There's nothing you can do. He paid for the ticket. He can do whatever he wants to. But after a while, he ticked me off …
"They're shouting, 'You [stink], you piece of …' And I'm tired of that. Everybody's tired. And I tell them, 'You know what, you want to do something? Come on. Come here.' And he told me, '[Forget] you. [Forget] your mother.' He talks about my mother, and I said, 'OK. God bless you.'"
A police officer approached the pair of fans, but the fans left, both accounts of the story say.
The Braves were in Milwaukee, so it's unlikely Roger McDowell was there as a second spitter.
For more baseball news, rumors and analysis, follow @cbssportsmlb on Twitter or subscribe to the RSS feed.