By C. Trent Rosecrans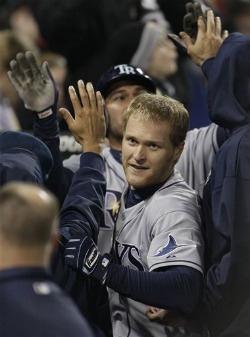 3UP
Dan Johnson, Rays -- Johnson's three-run homer topped off a five-run ninth, giving the Rays their first victory of the season, 9-7 over the White Sox. Not only was it the Rays' first win of the season, Johnson gave the team its first lead of the season.
Antonio Bastardo, Phillies -- The 25-year-old lefty gave up Chipper Jones' 2,500th career hit on Friday, but after that he struck out the next six batters he faced -- Brian McCann, Dan Uggla, Jason Heyward, Alex Gonzalez, Freddie Freeman and Tim Hudson.
Jordan Zimmermann, Nationals -- Not only did Zimmermann pick up his first victory since undergoing Tommy John surgery, he also threw 91 pitches, while allowing six hits and two runs in 5 1/3 innings. Oh yeah, he also singled in two runs in the second inning.
3DOWN
Brian Wilson, Giants -- After staring in the Giants' pregame ceremonies to commemorate their World Series title, Wilson came into the game in the ninth inning to lock down another save. Instead, he gave up two runs on two hits and two walks. It was his second appearance since coming off the disabled list, allowing three runs Wednesday against the Dodgers. Manager Bruce Bochy has taken him out without finishing the inning in both outings. But hey, at least his ERA dropped from 40.50 to 33.75.
Albert Pujols, Cardinals -- You're not going to see this name in this part of 3 up, 3 down too often, but the two-time Gold Glover (including 2010) dropped a simple throw from pitcher Brian Tallet on Andres Torres' two-out grounder in the 12th inning on Saturday. That set up an RBI single by Aaron Rowand to give the Giants a 5-4 victory.
Boone Logan, Yankees -- In six plate appearances against lefties this season, Yankee the left-handed reliever has allowed three hits and two walks. Logan gave up hits to David Ortiz and J.D. Drew, with Drew's single in the seventh scoring two and locking up the first win of the season for the Red Sox. He did get Jacoby Ellsbury to ground out to end the inning, but the damage had been done by that point. With Pedro Feliciano and Damaso Marte on the DL, he's the team's only lefty in the bullpen.
For more baseball news, rumors and analysis, follow @cbssportsmlb on Twitter or subscribe to the RSS feed.