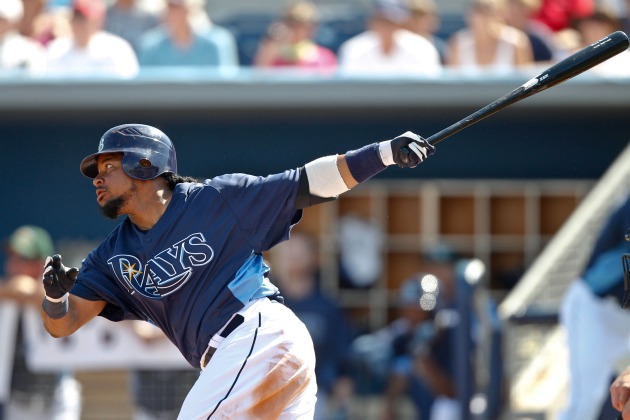 By Evan Brunell
MORE MANNY: Stop me if you've heard this before, but Joe Posnanski has written a great story. And as you may have gathered by now, it's about Manny Ramirez. Here's Poz:
In my own romantic view of baseball and the world, I tended to see Manny as baseball's Mozart — an often vile personality who did one thing so beautifully that you could not turn away. ... [I]t was clear that these tough old baseball men who had no respect at all for the way Ramirez treated the game were almost absurdly awed by his talent. They talked of games he would play with pitchers during spring training to set them up later in the year. They talked of adjustments he would make pitch-to-pitch that were so remarkable they could only compare it to chess grandmasters. Bill James ... insisted that Manny Ramirez would purposely get into 3-2 counts with a runner on first so that the runner would be on the move with the pitch and could then score on the double MannyBManny planned to hit.
There's no question that Manny's legacy is stained beyond repair. He's effectively failed three drug tests now, and we're all left to wonder just how long this has been going on. But despite steroids, Manny was a revelation. After all, how many people took steroids to get ahead and how many turned out like Manny? While there's no excuse for Ramirez's actions, it's always been clear that he had an incredible, uncanny ability to hit, both mentally and physically. Those talents come along once in a generation and while Ramirez deserves every ounce of blame for sullying his magical talent, you can't help but marvel at what he's done in the game. (Sports Illustrated)
OWNERS NARROWED: The Mets have narrowed their search for a new minority owner to eight candidates. "They are very happy with the numbers they're seeing. There's a range - the low end is marginally acceptable and the high end is very acceptable," a source said of the Wilpons, who are expected to bring in the new owner by July. (New York Daily News)
ROTATION QUESTIONS: Shaun Marcum seems as if he will be able to make his next start on Tuesday, so Marco Estrada appears ticketed for the bullpen. (Milwaukee Journal-Sentinel)
LOVING BASEBALL: The president of Harvard University takes to the newspaper pages to write about why she loves baseball. (Philly.com)
UP, UP AND AWAY: For the first time in his life, Brandon Belt's father stepped onto a plane, all to watch his son play a game in San Francisco. Darrell and wife live in Texas. (San Jose Mercury News)
PLANE SCARE: Tony La Russa and four players were flying to a charity event for La Russa when their plane's cabin failed to pressurize. The plane returned to the airport and did not climb above 10,000 feet. (St. Louis Post-Dispatch)
ESCOBAR IMPROVING: Yunel Escobar is taking encouraging steps back from a mild concussion suffered Wednesday. He could be back in the lineup as early as Sunday, but new concussion guidelines means he must undergo a final round of testing Saturday before he can take the field. (MLB.com)
RAMOS WINS JOB: Wilson Ramos will become the full-time starting catcher in Washington as Ivan Rodriguez's role is phased back. Don't be surprised to see Pudge eventually traded. (MLB.com)
ALZHEIMER'S: No matter who you are or what you did, no one deserves the agony of Alzheimer's. Yet, that's what Stan Musial is battling as a new biography of Stan the Man details. (St. Louis Post-Dispatch)
NO MORE HAT FOR LONGORIA: The New Era commercial with Evan Longoria losing his hat was rather popular last season, but this year New Era is going forward with Alec Baldwin from 30 Rock and John Krasinski from The Office, creating another solid commercial. (Big League Stew)
For more baseball news, rumors and analysis, follow @cbssportsmlb on Twitter or subscribe to the RSS feed.