By Evan Brunell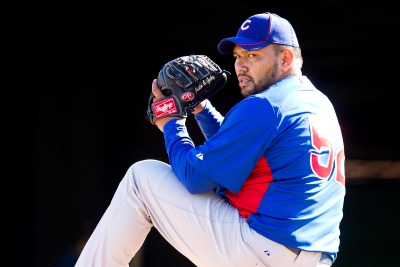 The Yankees have signed Carlos Silva to a minor-league contract, continuing the progression of aging, past-their-prime starters in hooking up with New York.
Freddy Garcia and Bartolo Colon were the first to sign, and both have made the team with Garcia as the No. 5 starter and Colon as long reliever. Colon impressed in relief of Phil Hughes so much on Friday that one has to think the rotation may be in his future depending on what happens with Hughes and his mysterious lost velocity. (Danny Knobler has more on Hughes here.)
Then, as the season was opening, the Yankees finally snagged Kevin Millwood on a minor-league deal. Now, Silva joins the team in the hopes he can make the big-league club. That's rather unlikely as the right-hander has a 5.82 ERA over the last three seasons in 55 starts split between the Mariners and Cubs. His 4.22 ERA over 21 starts for Chicago last season is misleading, as he essentially only had two good months and if he had pitched more than two starts over the final two months, that ERA would likely have been a lot higher.
Still, it's hard to fault the Yankees for the signing. The 31-year-old joins a team that has Larry Rothschild as pitching coach, the same one that helped Silva get off to a fast start in 2010. In addition, with the question marks surrounding Hughes, Garcia and Ivan Nova, New York needs to build as much depth as possible until they can strike for a pitcher in trade.
Silva will report to extended spring training to "get in shape" (as much as the 280 lbs. pitcher can get in shape, I suppose) and then head to Triple-A and pair with Kevin Millwood. He does have an opt-out clause in his deal, but it is likely not the usual May 1 clause most veteran players get -- such as Millwood -- on minor-league deals given May 1 is three weeks away. More likely, it's May 15 or June 1.
For more baseball news, rumors and analysis, follow @cbssportsmlb on Twitter or subscribe to the RSS feed.