By Evan Brunell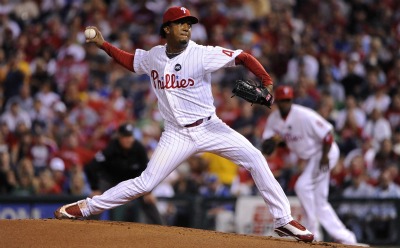 Pedro Martinez is still hoping to pitch in 2011 despite not having pitched since losing Game 6 of the 2009 World Series for the Phillies, reports the New York Times.
Martinez, who is most known for his time as a Red Sox, is looking to sign with a team with playoff aspirations and believes he could be ready inside two months.
"I'm in shape right now and I'm training and I'm playing catch, so getting to full strength would probably take me a month, month and a half, to be on a mound," Martinez said, although he cites his family as a reason why he wouldn't want to come back. "The more time I spend away from the game, the more attached I get to my family. Apart from that, it would probably be just the hassle of having to travel so much and being away from them. It's what makes it more difficult for us."
For now, Martinez is content training and working on his foundation while awaiting a call, if it ever comes.
"I've ... been doing a little bit of fishing and spending time with my family, of course. I fish most of the time in Miami and the Dominican -- that's where we spend the most time. When I see myself free completely, I'm fishing. If I'm not, I'm training or dealing with the foundation," Martinez added.
Pedro says if he had to pick a team to return to, it would be the Red Sox.
"I would like to win a World Series in the National League, so the Phillies are in there, too. But for the time I'm going to be playing, I think Boston is more suitable so that I can retire with the Boston Red Sox and go to the Hall of Fame with the same hat," Petey said. While he's likely to go in with a Boston hat regardless of where he plays this year, it doesn't hurt that the Red Sox are Pedro's pick to represent the AL in the World Series even though he believes the victor will be Philadelphia. Plus, Philly has one of Pedro's favorite pitchers to watch.
"I would love to see a matchup between Ubaldo Jimenez and Roy Halladay," Martinez said. "That would be a dream matchup. I know it can be stressful for some of us to be facing top-notch pitchers, but that's the way I liked it throughout my career. I liked big pitchers, the big time and big games, and I'm pretty sure they feel the same way."
It's tough to see Martinez returning to the game after such a layoff, but not impossible. While he certainly envisions himself as a starter, is it possible he could succeed as a reliever? Perhaps the greatest pitcher in the history of the game, Pedro just doesn't have the endurance to go deep into games with wicked stuff anymore. Limiting himself to an inning or two at a time may allow him to pitch with more max effort per pitch and make him that much more effective.
For more baseball news, rumors and analysis, follow @cbssportsmlb on Twitter or subscribe to the RSS feed.