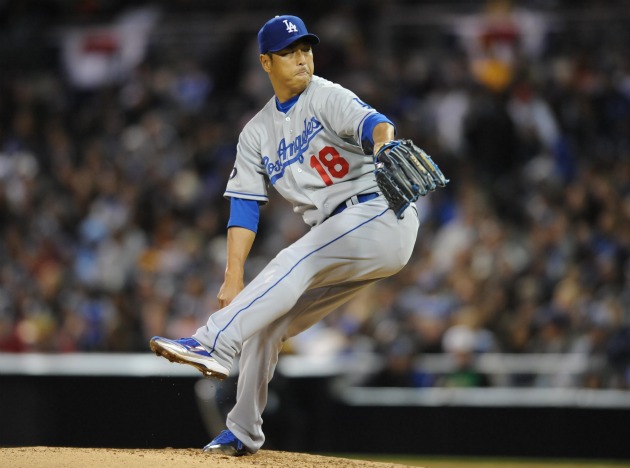 By Evan Brunell
3 UP
Russell Martin, Yankees -- Russell Martin's two-home run day early on proved a harbinger of things to come later that night with the other New York team. Martin delivered a soul-crushing blow in the fourth inning with a three-run blast off Clay Buchholz that erased the lead Boston had just taken. He would later cap off the 9-4 victory with a solo home run in the seventh for a total of four RBI out of the nine spot. He was helped by Eric Chavez's three-hit night in front of him.
Carlos Beltran, Mets -- Carlos Ruiz's pinch-hit grand slam probably belongs here as it was instrumental in taking out the Braves, but this was a game Beltran sorely needed after coming into the game with a paltry .190/.292/.286 mark in 24 plate appearances. Now, he walks away with a .240/.321/.560 mark. Yes, things change that fast in the early going, and Beltran's two home runs against the Nationals completely changed everything for the new right fielder, who tacked on three runs and three RBI as well.
Hiroki Kuroda, Dodgers -- An absolute masterpiece tossed by the Japanese import completely blanked the Padres as Kuroda came within one out of a complete game. He ended up with 8 2/3 innings pitched, giving up just six hits and two walks along with four strike outs and of course, no runs earned. With 117 pitches on his resume and having coughed up consecutive singles, Kuroda's night was done. While Johnathan Broxton made it scary by loading the bases on a walk, he was able to nail down the win for Kuroda.
3 DOWN
Travis Buck, Indians -- Buck had the worst batting line on the day as his ofer included three strikeouts. Buck is tring to battle for playing time in the outfleld and cling to a spot after Grady Sizemore's eventual return. While the oft-injured outfielder has talent, one has to wonder if the years of stops and starts due to said injuries have sapped all his potential.
Jake Arrieta, Orioles -- Arrieta followed up Zach Britton's shining example set in the first game of a doubleheader by falling flat with a dud. In just 3 1/3 innings, the rookie coughed up six hits and two walks en route to eight earned runs, including two home runs. While he did save face with five strikeouts, that's really searching for a silver line. Could Arrieta and his 8.68 ERA be jettisoned to Triple-A instead of Britton when Brian Matusz returns?
Fernando Abad, Astros -- Bud Norris was cruising and his Astros had a 4-1 lead entering the sixth. Norris would go on to surrender the lead by coughing up three runs, but at least it was still tied, right? Except reliever Fernando Abad came in for the seventh recorded an out and then gave up three straight doubles. No wonder, then, that two runs scored and Abad couldn't finish out the inning. Florida would go on to win 7-5.
For more baseball news, rumors and analysis, follow @cbssportsmlb on Twitter or subscribe to the RSS feed.