By C. Trent Rosecrans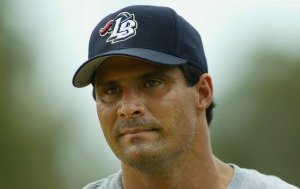 Yuma, Ariz., has one of the country's highest unemployment rates. It's employed at least two more people, as the Yuma Scorpions of the independent North American League has hired Jose Canseco as a player-manager for the team and given his brother a job, as well.
And, just so there's no confusion this time, Ozzie Canseco will be by his side as a player-bench coach-hitting coach. Really.
"I think it's exciting for Yuma," North American League president Kevin Outcalt told the Yuma Sun. "It's going to be a lot of fun. Jose is a very accomplished player, he has a lot of sway in the media and in pop culture and a fun time at Desert Sun Stadium for the fans."
Canseco, 46, hit 462 home runs in parts of 17 seasons with the A's, Rangers, Red Sox, Blue Jays, Rays, Yankees and White Sox. He's been starved for attention since retirement, first (successfully and by all accounts honestly) blowing the whistle on steroids, plus stints on reality shows and attempts at boxing and mixed martial arts. He is currently being sued after substitution his brother for himself in a boxing match in Florida.
It's not Canseco's first foray into independent baseball. He played with the Long Beach Armada of the Golden Baseball League in 2006. The North American League was formed this winter when the United League Baseball, Northern League and Golden Baseball League merged. The Golden Baseball League and the Armada sued Canseco when he left midway through the season and won more than $250,000 from the former slugger.
Canseco also played for the San Diego Surf Dawgs in the Golden Baseball League and the Laredo Broncos of the United Baseball League last season. He also played with the Newark Bears of the Atlantic League in 2001.
For more baseball news, rumors and analysis, follow @cbssportsmlb on Twitter or subscribe to the RSS feed.