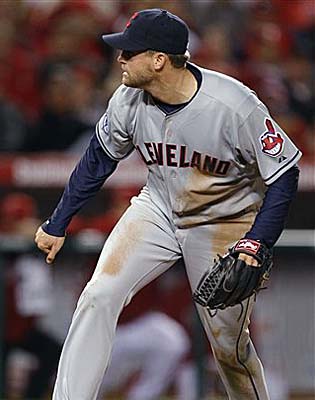 By Matt Snyder
3UP
Mitch Talbot
,
Indians
. Actually, we could put the entire Tribe starting rotation here. It's been incredible during the eight-game Cleveland winning streak. During that span, Talbot,
Justin Masterson
,
Fausto Carmona
,
Carlos Carrasco
and
Josh Tomlin
have combined for a 1.55 ERA (hat-tip to
Jordan Bastian
). Monday it was Talbot's turn, and he went eight shutout innings, allowing the
Angels
only five hits and two walks while striking out four. He was given four runs by his offense in the first two innings and cruised to victory.
Troy Tulowitzki
,
Rockies
. The shortstop got his team on the scoreboard with an RBI single in the third, kept the
Mets
off the board with an incredible defensive play to end the seventh and then hit a two-run shot in the eighth that would prove to be the eventual difference in a 7-6 Rockies win.
Lance Berkman
,
Cardinals
. When he came to bat in the seventh, he was still without his first home run as a Cardinal. Before the game was over, he had two.
3DOWN
Daisuke Matsuzaka
,
Red Sox
. I tweeted during the game that the difference in
Josh Beckett
's stuff from Sunday night to Dice-K's stuff Monday was like going from varsity to junior high. Allow me to alter that sentiment. It was more like varsity to little league. There's just no bite on any of his pitches and he doesn't even seem to command anything well. He somehow made it through two innings, giving up eight hits, seven earned runs, two home runs and two walks.
Juan Pierre
,
White Sox
. Yes, Pierre had to run a long way. Yes,
Matt Thornton
has now blown three saves without converting any. Still, Pierre needs to make that catch on the warning track. If it happens, maybe Thornton finally gets off the schneid with his first save. Instead, the White Sox lose in extra innings. And, by the way, that was the second time Pierre's dropped a fly with Thornton on the hill this season.
Felix Hernandez
,
Mariners
. It was a rare off-night for the King. He was battered by the
Blue Jays
to the tune of seven earned runs on 12 hits in six innings. Of course ...
Special bonus entry:
The Blue Jays' bullpen. It was 7-0 after six innings. A
Milton Bradley
solo homer in the seventh made it a seemingly innocent 7-1 tally. Then the eighth inning happened.
David Purcey
allowed two singles and a walk.
Octavio Dotel
walked two -- both forcing runs home.
Marc Rzepczynski
came in and walked in another before allowing a single. All of a sudden, it was 7-6.
Shawn Camp
did get out of the inning, but lost it in the ninth -- eventually on a two-RBI knock by
Luis Rodriguez
. The simple math? After the eighth inning began, the Mariners scored seven runs before the Blue Jays could record a sixth out. Four pitchers failed to varying degrees.
For more baseball news, rumors and analysis, follow @cbssportsmlb on Twitter or subscribe to the RSS feed.