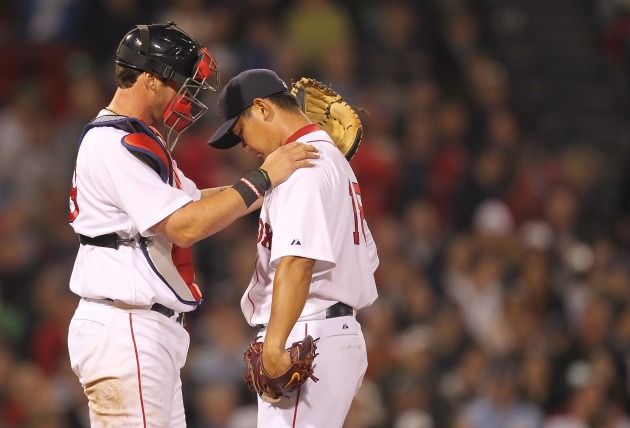 By C. Trent Rosecrans
Last night was Daisuke Matsuzaka's 100th career start in the big leagues -- and many in Boston are calling for it to be his last.
A Tampa offense that took five games to score seven runs this season needed only two innings to match that mark against Matsuzaka on Monday, an eventual 16-5 loss to the Red Sox.
In his 100 starts with the Red Sox, Matsuzaka's gone 46-29 with a 4.28 ERA and 1.408 WHIP, striking out 546, with those strikeout numbers decreasing with every year he's spent in the United States. His strikeout rate has gone from 8.8 per nine innings in 2007 to 7.8 last season and 5.1 in his two starts this season. Since his fourth-place finish in the Cy Young race in 2008, he's gone 13-14 with a 5.34 ERA.
In 2007, Matsuzaka had more hype than an iPad and the Red Sox paid a Steve Jobs-level price tag, too. Boston spend $51,111,111.11 just to negotiate with Matsuzaka before signing him to a six-year, $52 million contract. With two years and $20 million left on that contract, he's going to be tough to trade -- not even taking into account his no-trade clause.
The Boston Globe's Peter Abraham wrote this Tuesday morning:
The Red Sox would have to eat a bunch of money and they probably wouldn't get much back for him, maybe just a couple of mid-level prospects.

But it has to be done.
That sounds like a stretch, too. While Fenway Park isn't the kindest of habitats for pitchers, it doesn't appear a simple change of scenery is going to turn Matsuzaka around. His numbers are better on the road -- 23-13, 3.88 ERA and 1.355 WHIP away from Fenway and 23-16 with a 4.72 ERA and a 1.465 WHIP at home -- but not so dramatically different for some team to take much of a chance on Matsuzaka.
Matsuzaka may or may not accept a trade, but who do the Red Sox have to replace him in the rotation? The answer is not much.
Tim Wakefield, 44, wasn't much better than Matsuzaka, relieving him and lasting just 3 1/3 innings, allowing seven hits and five runs with no strikeouts.
The next choice would likely be 28-year-old right-hander Alfredo Aceves. In three games this season, he's allowed three hits and two earned runs, striking out five in 5 2/3 innings. Aceves started four games for the Yankees in 2008, but just one game since.
Lefty Felix Doubront has started in the past, but his injury history -- including a sore elbow in spring -- could make the team gun-shy about putting him in the rotation.
At the minor-league level, the choices aren't a whole lot better, with the top two likely being veterans Matt Fox or Brandon Duckworth.
Fox, 28, started one game for the Twins last season before the team waived him. The Red Sox picked up the former first-rounder and he pitched three games out of the bullpen last season.
Duckworth, 35, is 23-34 with a 4.50 ERA in 134 appearances and is 20-30 with a 5.11 ERA in 84 career starts with the Phillies, Astros and Royals.
As bad as Matsuzaka has been, Aceves may be the only option with a chance to be better, and he only has five starts in his MLB career.
For more baseball news, rumors and analysis, follow @cbssportsmlb on Twitter or subscribe to the RSS feed.