By C. Trent Rosecrans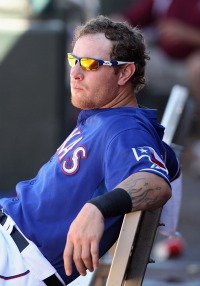 Josh Hamilton left Tuesday's game after two head-first dives against the Tigers.
UPDATE: Hamilton has a fracture in the upper area of his humerus bone -- which is the bone between the elbow and shoulder -- and will miss at least six weeks. Some outlets are calling for an eight-week absence. David Murphy will replace Hamilton in left field and Chris Davis appears headed to Texas as the roster replacement. (Dallas Morning News via Twitter)
Hamilton, the Rangers' designated hitter in today's game, slid head-first on an RBI triple in the first inning. Brandon Inge fell into Hamilton on the play. After his triple, Hamilton tried to tag up on a foul popup between home and third. Inge caught the ball and threw it to catch Victor Martinez, with both players diving, Martinez tagged Hamilton out. Hamilton walked to the dugout in apparent pain after making the third out. He seemed to be holding his back.
He was not happy about being sent home by third-base coach Dave Anderson.
"It was just a stupid play," Hamilton said. "I definitely shouldn't have done it. They had a good angle to cut me off where I was going. It was a little too aggressive. The whole time I was watching the play and I was listening. I was like, 'Dude, I don't want to go. Something is going to happen.' But I listened to my coach and I went." (Foul Territory )
The next time Hamilton spot came up in the lineup, Ian Kinsler was in his place. Hamilton was initially diagnosed with a strained right shoulder. X-Rays later revealed the fracture.
Just yesterday, Jeff Wilson of the Fort Worth Star-Telegram asked Hamilton about being more cautious with his head-first slides after two feet-first slides in Monday's game. Hamilton said he wasn't being more cautious.
Hamilton said he's continued to wear the flak-jacket he wore after suffering broken ribs last season. He said that's kept him from holding back.
"If I didn't have my rib pads on, I might consciously do it," Hamilton said on Monday. "When I have these on, it doesn't matter."
For more baseball news, rumors and analysis, follow @cbssportsmlb on Twitter or subscribe to the RSS feed.