By C. Trent Rosecrans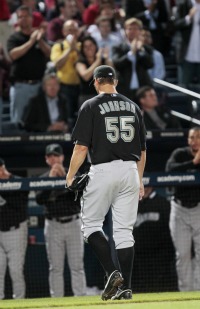 3UP
Josh Johnson, Marlins -- It's no surprise when Florida's Josh Johnson flirts with a no-hitter. He's the type of pitcher it seems like he'll throw one one of these days, maybe even in his next start. On opening day he took a no-hitter into the seventh inning and Wednesday night he took one into the eighth inning before Freddie Freeman doubled with one out in the eighth.
Lance Berkman, Cardinals -- Berkman homered for his third consecutive game and made it count, launching a grand slam in the second inning of the Cardinals' 15-5 victory over the Diamondbacks. He also had an RBI ground-out in the two-run first. Over the last three games he's 6 for 13 with four homers and 10 RBI. He had just six hits in the first eight games of his Cardinals tenure.
Brian Wilson, Giants -- Before Wednesday night's game against the Dodgers, manager Bruce Bochy said closer Brian Wilson was cleared to pitch back-to-back nights. Tuesday he picked up his first save of the season, Wednesday it was his second. After starting the season on the disabled list and then two bad outings, Wilson looks like his old self again, working perfect innings for the save each of the last two nights.
3DOWN
Nick Masset, Reds -- With Ozzie Guillen picking on the White Sox bullpen, we'll avoid doing so. But we'll still point out a former White Sox reliever, Masset, who blew a save for the third straight game on Wednesday. He had some help from an error by catcher Ryan Hanigan and came in with a runner on in the eighth inning, but he then gave up the winning run in the ninth. The Reds rebounded from his blown save on Tuesday to win in extras. Masset now has an ERA of 9.95 in five appearances (his ERA actually went down with Wednesday's performance). Masset had an ERA of 11.32 after April last season before finishing at 3.40 and as one of the Reds' top performers in the bullpen.
Juan Pierre, White Sox -- Pierre's not having a good week. On Monday, Pierre dropped a fly ball, leading to a White Sox loss. On Wednesday, he was 3 for 4 and reached base five times, but was picked off twice and picked up his third error of the season. Pierre had made just one error in each of the last two seasons.
Attendance -- If Johnson had thrown a no-hitter in Atlanta on Wednesday, he would have done it in front of the second-smallest crowd in Turner Field history. Only Tuesday's crowd of 13,865 was less than the 14,351 for Wednesday's game. The Pirates played in front of the seventh-smallest crowd in PNC Park history, 8,755.
For more baseball news, rumors and analysis, follow @cbssportsmlb on Twitter or subscribe to the RSS feed.