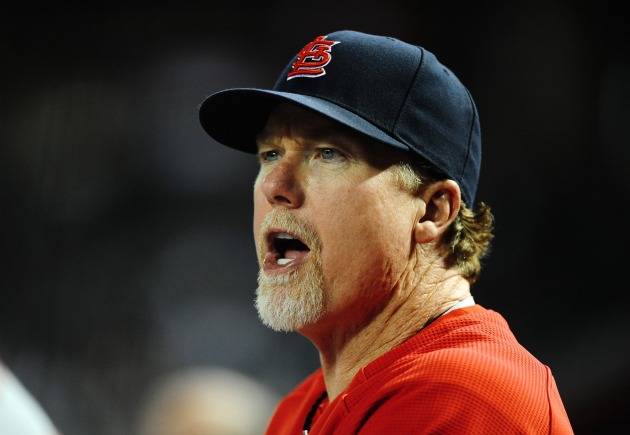 By Evan Brunell
DODGING THE BULLET: The steroid era continues to haunt baseball, as Barry Bonds' obstruction of justice charge is far from the end of the saga.
While Bonds is the posterboy for the whole mess, the former face of baseball has somehow survived a Congressional inquiry, years of self-imposed exile, a much-awaited admission and apology and returned to the game as a coach.
No one could have guessed this when Mark McGwire was stumbling over ways to avoid the past in front of Congress, but he's the only star to avoid any lasting damage, unless one counts his failed bids to make the Hall of Fame. It does really seem as if his lawyers gave him the right information all the way back in 2003 as he avoided lying to Congress and then hid away until it benefited him to come clean to avoid prosecution and get back into the game.
Look, there's no defending McGwire, both for his actions juicing up and for waiting until it behooved him best to admit using steroids, but in his second season as Cardinals hitting coach, there is no paparazzi stalking him and no controversy. At this point, McGwire is just another coach with a long history in the game. That's an impressive feat to pull off. (St. Louis Post-Dispatch)
BASEBALL TODAY: Can Cliff Lee get back on track tonight? Will Phil Hughes lower his ERA? Matt Snyder joins Lauren Shehadi to answer those questions and more.
STRASBURG BEHIND: Stephen Strasburg has yet to throw off a mound in his return from Tommy John surgery. That places him behind Jordan Zimmermann's own schedule last season, but the Nationals have cautioned everyone rehabs at their own pace and there is no rush. Strasburg has a shot to pitch in September for Washington, but given he has yet to step on a mound, that shot has suddenly become a long one. (Washington Post)
MANNY WHO? The Rays have already found a solution for replacing Manny Ramirez's bobblehead night on May 29. In his place, the club will give away a cape dedicated to Sam Fuld, who was a one-man wrecking crew in the abbreviated two-game series against the Red Sox. Click the link to check out the cape, which is pretty cool. (Tampa Tribune)
GOING CRAZY: Well, that didn't take long. Skipper Terry Collins reportedly went "ballistic" after Wednesday's stinker. A player said Collins didn't single anyone out, but made it clear he wasn't happy with how New York was responding to its recent slide, having lost six of seven. (New York Post)
PANIC ALERT: At the outset of the 2011 season, one keeps hearing how it's too early to draw any conclusions from the play of teams or players. But for one certain writer, it's never too early as he encourages you to go right ahead and panic. Something about how it's healthy and fun to panic. Me? I'd prefer to stay even-keeled, thanks. (Sports Illustrated)
SHORTSTOP PAINS: The Brewers are incredibly thin at shortstop, both at the major-league and minor-league level. Luiz Cruz left the organization to sign with the Rangers despite Milwaukee telling him he would be the first option up to the majors if needed. Then, Triple-A third baseman/shortstop Zelous Wheeler got injured, leaving journeyman Anderson Machado as the first line of defense at short. And if your first line of defense is Machado, you've got serious problems. (Milwaukee Journal-Sentinel)
TILLMAN BOMBED: Chris Tillman was smacked around by the Yankees on Wednesday, and manager Buck Showalter made it clear after the game that it was unacceptable. "You just can't let them get away from you and keep the team in the game," he said, also declining to confirm Tillman would make his next start Monday. (Baltimore Sun)
UBALDO RETURNING: Rockies ace Ubaldo Jimenez had a strong rehab outing Wednesday and should make his return to the majors on Monday. (MLB.com)
BACK TO THE ROTATION? Jeff Samardzija has shuttled back and forth between the rotation and bullpen in his fledgling career and may be settling into a niche as a reliever. However, when the team needs a fifth starter again next week, manager Mike Quade says he'll be forced to consider Samardzija along with a host of other options. (Chicago Sun-Times)
MEETING THE PRESIDENT: A select number of Houston Astros coaches and players had lunch with former president George H.W. Bush, an invitation that occurs once a year. "I was a little star-struck when I saw him," third baseman Chris Johnson said. "You see athletes all the time. That's totally different. It's totally on another level." (Houston Chronicle)
HAPPY 70, CHARLIE HUSTLE: Pete Rose turns 70 on Thursday, an unthinkable thought to those who grew up idolozing Rose and the Big Red Machine. (South Florida Sun-Sentinel)
For more baseball news, rumors and analysis, follow @cbssportsmlb on Twitter or subscribe to the RSS feed.