By Evan Brunell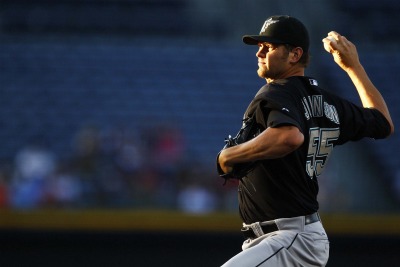 As if Josh Johnson needed another weapon.
Johnson deployed his newest pitch Wednesday night as he flirted with a no-hitter into the seventh inning. His 80-mph curveball, which he used intermittently in his first three starts, was used about five times to excellent results.
"Everybody knows how JJ is when he gets the lead," Hanley Ramirez told MLB.com. "When he gets the lead, he's even tougher. He was pounding the strike zone. I think he's got a new pitch now. He's unbelievable."
Johnson added a new pitch despite an impressive track record. Last season, Johnson posted a 2.30 ERA over 183 1/3 innings after a 209-inning, 3.23 ERA effort in 2009. He easily has the talent to win a Cy Young and this could be the year he does it provided he stays healthy and his curveball continues to be a weapon to build on.
"It's been getting better and better, and I'm starting to locate it a little more," Johnson said.
The reason Johnson added the curve was to separate his other two dominant pitches more. His fastball is thrown in the upper 90s, while his slider can reach 91. That allows hitters to prepare for pitches over 90 mph, and Johnson wants to throw in a wrinkle. His slider works best in the mid-80s, while he also mixes in a changeup that falls in the 87-mph range. So his curveball will function as his slowest pitch and will offer a different plane for hitters to adjust to.
The right-hander is also talking with fellow starter Ricky Nolasco on his curve as Nolasco is considered to have one of the best curveballs in the game.
"I've been talking with Ricky," Johnson said. "He's a good one to talk to about it. It's just something for hitters to see slow, and maybe my fastball will look a little harder."
Just what the hitters needed.
For more baseball news, rumors and analysis, follow @cbssportsmlb on Twitter or subscribe to the RSS feed.