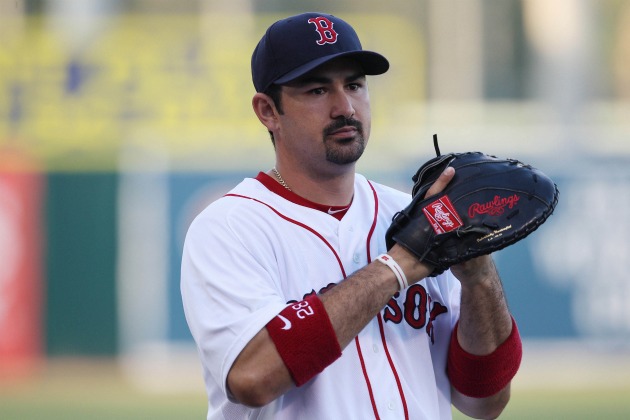 By Evan Brunell
The Red Sox will finally sign first baseman Adrian Gonzalez to a contract extension Friday.
The deal will stretch seven years and a total value of $154 million, marking the richest contract Sox ownership has handed out since taking over the team in 2002. By waiting until now to consummate an extension, Boston will save millions in luxury tax payments as his contract will not apply to this season's payroll. That allows the three-time All-Star's current $6.5 million salary for the season to stand instead of having his average annual payment of $22 million impact 2011.
"Very grateful for this opportunity,'' Gonzalez said according to the Boston Globe. "Like I said back in December, I'm really excited about being able to play here for the next seven years, hopefully longer, and I just want to thank John Henry and the whole front office for this extension."
That annual value will become the eighth-highest value in the game and just $500,000 behind Mark Teixeira for the third-most expensive first baseman in the game. The overall $154 million value will land A-Gon's deal into the top 10 of most lucrative contracts ever paid, ranking ninth while barely edging Miguel Cabrera. Red Sox teammate Carl Crawford now falls to 11th in total value rankings.
Gonzalez will receive a $6 million signing bonus, then average salaries of $21 million from 2012-16 and then an additional $500,000 a year in his final two years.
"This is the culmination of a process that started several months ago and we're pleased to get it done,'' said Sox GM Theo Epstein. "Hope this will go down, and I believe this will go down, as a great day for the organization. Adrian's going to make a major impact here for a long time."
The deal was one of the worst-kept secrets in the game even as Boston and Gonzo's agent, John Boggs, scrambled to come up with pithy excuses as to why the extension had yet to be signed when everyone knew exactly why.
In any event, now that the contract is inked, the lefty will become the highest paid first-baseman Boston has ever had, and only Manny Ramirez's eight-year, $160 million deal dwarfs the Gonzalez contract for most expensive in Red Sox history. The deal also includes a no-trade clause, as Gonzalez can block deals to two clubs, but additionally, any trade cannot flip him to the Yankees.
The problem is, unfortunately, GM Theo Epstein hasn't had much luck in lucrative free-agent signings. Over the last several seasons, if you throw out players who signed extensions while arbitration eligible -- such as Clay Buchholz, Jon Lester, Dustin Pedroia and Kevin Youkilis -- his track record is spotty. Witness signings of Josh Beckett (OK, so maybe it's a tad early to pass judgment on this one -- and yes, Beckett technically signed an extension but he was in the final year of his guaranteed contract and was going to become a free agent, so he counts as someone who signed market value), Daisuke Matsuzaka, John Lackey, Mike Lowell (technically became a free agent before returning to Boston), Julio Lugo and Edgar Renteria. Even the lone signing of J.D. Drew that's worked out so far has plenty of detractors given the irrational desire of fans to see Drew be more like Paul O'Neill, and the mega-deal handed to Crawford has gotten off to a bad start although no one expects that to continue.
It's difficult to imagine the 28-year-old (29 in early May) not living up to his deal. While he only has one home run to his name so far in 2011, he's already shown enough that fans are excited about Gonzo's potential. And if you look at his numbers over the last several seasons , it's notable how much playing in Petco Park harmed him. Over his last two seasons in Petco, he hit .262/.398/.442 with 23 home runs in 670 plate appearances. His road numbers tell a completely different story, having bashed 48 home runs in 704 PA, hitting .310/.401/.609. Those are massive numbers, and ones certainly worth $22 million annually.
"We had a pretty good idea what we were getting," manager Terry Francona added. "But it's nice to see it. ... It's kind of reassuring. You go through a tough week, he's been so positive. Like I said, he gets it. He understands why we're here. He gets it, that's the best way to see it. He understands what's going on. I think he flat-out gets it."
Gonzalez is currently hitting .268/.362/.439 in 47 PA for the Red Sox. The extension is expected to be formally announced Friday afternoon prior to a game against the Blue Jays.
For more baseball news, rumors and analysis, follow @cbssportsmlb on Twitter or subscribe to the RSS feed.