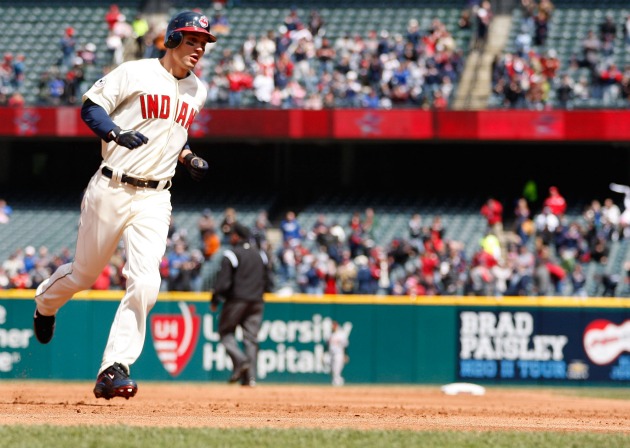 By Evan Brunell
UP TOP: Grady Sizemore will remain at the top of the order and lead off for the Indians now that he's finally back from injury. To hear manager Manny Acta tell it, it was never a consideration to stick Sizemore into the middle of the order.
"We talked to him about it in spring training. He's leading off, because we have Carlos Santana in the lineup," Acta said. "If he had to hit second, third or fourth, he's not the kind of guy who's going to pout. He's a coach's dream. He'll do whatever you want him to do."
Sizemore's return is much welcome for a surging 11-4 Indians club who now have a potential elite bat back in the lineup, although he won't play all 148 remaining games. The Indians plan to be cautious with Sizemore and will rest him fairly regularly in the early going which will open up the leadoff spot for new left-fielder Michael Brantley.
Although Sizemore has had a pair of 100-RBI seasons (and runs scored), Santana's presence allows Acta to lead Sizemore off and increase the chances the club can get something going at the top of the order instead of batting Sizemore and Santana back-to-back in the 3-4 spots. One other consideration could have Sizemore batting second and Brantley leading off, but it appears as if Acta is completely committed to leading Sizemore off. It's certainly a better idea than knocking Sizemore or Santana down to cleanup, but long-term, the team may benefit batting Sizemore second. Until Brantley proves himself with a modicum of long-term success, however, Sizemore is the man leading off. (Akron Beacon Journal)
BASEBALL TODAY: Can the Rockies keep up their hot start all season long? Will the Dodgers be a player in the National League West? Troy Renck of the Denver Post joins Lauren Shehadi with the latest.
FINALLY, SUCCESS: It's been a good start to the year for Alex Gordon, who is already considered a bust this early into his career. But as he says, regular playing time at one position is the whole reason why he's hitting .365/.394/.540 in 66 plate appearances, leading the AL with 14 runs scored. It's still very early, but it's great to see Gordon get off to a hot start and revitalize his career. (Kansas City Star)
BLUE OX: The Twins have made some of the most creative commercials the last few years and the newest installment is no exception. Jim Thome dons his cap to Paul Bunyan by doing a skit with a blue ox and sporting a double-breasted flannel shirt with his name and number on the back. The best part of the commercial, though, is Michael Cuddyer's spit take. (Big League Stew)
NO, REALLY, I LIKE IT: New BoSox outfielder Carl Crawford is keeping a season diary and in it, speaks to his early struggles and the fact that he actually likes to lead off, contrary to reports.
"It's actually fun to bat leadoff," he says. "I get to do everything I like to do on a baseball field. I get to be exciting and run and set the table. There's nothing wrong with batting leadoff at all. People that say I hate batting leadoff don't know me that well." (ESPN Boston)
BARD'S THE MAN: Skipper Terry Francona has made no secret of the fact that Daniel Bard is his go-to guy in the bullpen and loves being able to deploy him at any time instead of having to use strict guidelines as he has to do for the closer's spot. All the more reason why closers in this day and age are overrated. Bard entered Sunday's game against Toronto at a pivotal point in the seventh inning with two men on and calmly engineered a double play and strikeout. (Providence Journal)
SETBACK: Bryan Stow, the Giants fan severely beat by two scumbags who happen to root for the Dodgers, was placed back into a medically-induced coma as he suffered seizures when doctors tried to draw him out. There's still no timetable for recovery or knowledge how much brain damage, if any, Stow suffered. (FOX Sports)
COLON'S BACK: When we last saw Bartolo Colon, he appeared to have pitched (and eaten) his way out of baseball in 2009. Except now the newly pinstriped reliever will return to the rotation and start Wednesday. (MLB.com)
DOMINATION: Colon will have to keep an eye on Kevin Millwood, another veteran pitcher the Yankees picked up on a lark. Despite poor reviews of his preseason work, Millwood flat out dominated Double-A hitters on Sunday, tossing a one-hitter in a seven-inning complete game. Millwood can opt out of his deal on May 1 if he's not called up to the majors. If his outing is any indication, he won't have any trouble finding a job. (MiLB.com)
FIRST TIME FOR EVERYTHING: In the second game of the doubleheader Sunday, Jayson Werth sat out his first game as a National due to "aches and pains." With 14 games under his belt, Werth will return to the lineup on Tuesday. With the move, Rick Ankiel is now the only player to have started every game for Washington. (Washington Post)
WRIGHT IS RIGHT: It's tough to imagine Jamey Wright still pitching effectively as he personifies the average journeyman bouncing around from team to team to fill in. Yet, the 36-year-old has actually cobbled together a nice string of seasons as reliever and impressed in his two-inning stint for the M's Sunday. Wright appears to be Seattle's most trusted reliever outside of closer. (Seattle Times)
TAX-FREE: When an Astros fan won 315 coupons to net a free cup of coffee and/or a doughnut or a dozen doughnut holes, he had no idea that he would be issued a Form 1099 that would strip him of $237 worth in tax refunds. The Astros refused to pay the difference, but Shipley's Do'Nuts agreed to make up the balance. The Astros also got back into the fan's good graces by giving him four tickets to opening day as well as a Jeff Bagwell signed baseball. (Houston Chronicle)
STREAK SNAPPED: In what is believed to be the longest streak in college baseball but unverifiable, Kansas State's Nick Martini went 0 for 5 on Sunday to snap his streak of 93 straight games reaching base. He registered a hit in 76 of these games. (Washington Post)
LEFTY MOVES: The Blue Jays are trading left-handed pitcher David Purcey to Oakland for reliever Danny Farquhar. Farquhar is an ex-Blue Jay, having been shipped west in the Rajai Davis deal during the winter. (FOX Sports) Meanwhile, the Red Sox optioned lefty Felix Doubront to the minors and welcomed back Hideki Okajima, who will take another crack at this whole relieving business.
For more baseball news, rumors and analysis, follow @cbssportsmlb on Twitter or subscribe to the RSS feed.