By Evan Brunell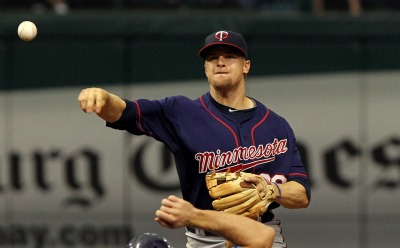 The last-place Minnesota Twins, sporting a 5-10 record that is tied with several other teams for least amount of victories thus far, are scrambling to find answers.
Of course, a major answer is currently on the disabled list, as star Joe Mauer has been felled by a debilitating viral infection. The Twins have also had to deal with a closer crisis, as Joe Nathan has already been demoted from the job after struggling in his return from Tommy John surgery. The team also has to withstand the loss of starting second baseman Tsuyoshi Nishioka is out over a month after breaking his leg. And then of course, Justin Morneau is still working his way back from a concussion that knocked out the last several months of 2010. Morneau is receiving his second straight day off Monday after playing in a doubleheader Saturday, so it's clear he isn't quite right yet.
That's a whole lot of bad luck for the Twinkies.
"We understand the importance of every game," GM Bill Smith said to the Minneapolis-St. Paul Star Tribune. "You can lose a division in April just as easily as you can lose it in September. You can win it in April just as easily as you can win it in September. We've got to right the ship, and we're going to get our guys back on track."
The problem with this is that the Twins have a thoroughly unexciting squad, even when Mauer and Nishioka return. The cost of trying to acquire "Twins" players is that the club is often left with punchless players who get by on grittiness and defense. (Or in case of the outfield, no defense and a solid offensive game but with glaring deficiencies.) Nick Punto personified this aspect for years as he hit .248/.323/.324 in 2,707 plate appearances over seven years. That works out to 387 PA a year, which is a ton of at-bats to get, and he had two years with more than 500.
Punto's moved on to St. Louis, but his legacy lives on as the lineup Sunday indicates. Matt Tolbert led off the game, with Alexi Casilla following. Skip the power spots and you have Danny Valencia as the starting third baseman, and although he was out of the lineup, Denard Span is the team's starting center fielder.
And the career batting lines of those named?
Tolbert (pictured) is 29 years old with a career line of .246/.304/.349 in just 474 plate appearances. Casilla, 26, has a career .246/.302/.323 line in 1,108 plate appearances, while Valencia is 26 as well and has an impressive .294/.346/.426 mark in 381 plate appearances. However, Valencia had a hot 2010 in a 322-PA stint and his minor-league totals from his time in Triple-A are markedly less impressive. Out of the names mentioned thus far, Valencia has the most capability of sticking in the lineup, but the lack of power in his bat limits his value. Lastly, Span is 27 and is rather promising and a more than viable leadoff hitter as his .290/.367/.394 career line in 1,854 PA boasts.
And those players are actually valued by the team.
Granted, Tolbert probably exits the lineup once Nishioka returns and his ceiling is a bit higher, but that's still an awful lot to compromise on offense -- and the fact Tolbert led off the game tells you everything you need to know about both the team's struggles and the fact that Tolbert was their best option with Span out of the lineup.
While the club has Jim Thome as a power bat, he is merely a part-time player as the Twins try to milk all they can out of Delmon Young who has yet to justify his hype. Minnesota also has Jason Kubel and Michael Cuddyer for the middle of the order, but Cuddyer is slipping and Kubel is trying to shake off a poor 2010.
No one's saying these Twins can't contend. After all, they're coming off back-to-back division titles. That said, the Twins have made several curious moves the past few years, ranging from acquiring Matt Capps despite his exorbitant salary and demoting Kevin Slowey from the rotation to the bullpen to start Nick Blackburn, a worse pitcher who somehow lucked into a lucrative contract extension. Speaking of the Capps acquisition, it forced the Twins to go cheap on the rest of the relief squad given the dollars tied up in Capps and Nathan. Going cheap on middle relief is actually not a bad thing at all, but the pitchers Minnesota chose are hardly exciting, and the bullpen is now an Achilles' heel given Nathan's poor performance.
Although the Twins still have a good ballclub and will contend for the division before it's all said and done, this is a team thin on depth and power. For Minnesota to contend, the saving grace will have to come from the rotation which has an impressive blend of starters. In addition, Slowey could always return to the rotation and top prospect Kyle Gibson should make his debut by season's end.
Unfortunately, the rotation may not be enough to overcome the White Sox or Tigers in 2011.
For more baseball news, rumors and analysis, follow @cbssportsmlb on Twitter or subscribe to the RSS feed.