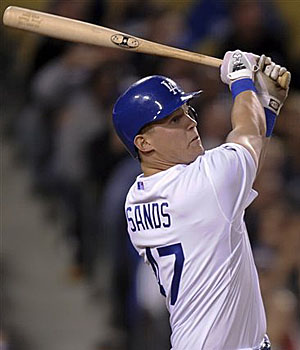 By Matt Snyder
3UP
Jerry Sands
,
Dodgers
. Going 1-3 isn't exactly setting the world on fire, but Sands made an impact in his first major-league game. He doubled in his first at-bat and then hit a sacrifice fly next time up. The significance there is that the Dodgers had gotten just two RBI from left field all season, and Sands had needed two plate appearances to get halfway home. He made enough of an impact that
Tim Hudson
threw a pitch behind him next at-bat --
Ted Lilly
retaliated next inning by doing the same to
Nate McLouth
and both benches were warned.
Felipe Lopez
,
Rays
. Greeted with mass mockey in the Twitter world for being a cleanup hitter, Lopez quieted the critics for one night by going 3-4 with a double, home run, two runs and three RBI. He's raised his triple slash (batting average, on-base percentage, slugging percentage) lines to .316/.350/.553. And the Rays won, giving them a 6-1 record since that dreadful 1-8 start.
Kevin Correia
,
Pirates
. Picked up off the scrap heap by the Pirates after a disastrous 2010 season, Correia hurled a complete game Monday against the division-leading
Reds
. He now has a 2.48 ERA through 29 innings. And don't look now, but the Pirates -- after having taken two of three from the Reds -- are only a game out. Of course, it's a four-way tie at 8-8, but still a game out and tied for second place. I'm sure Pirates fans will take it.
3DOWN
Esmil Rogers
,
Rockies
. The 25 year old had gotten off to a nice start to 2011, sporting a 2.77 ERA through two starts. So much for that. He was absolutely torched by the
Giants
Monday night. In only three innings, Rogers allowed six hits, two walks and eight earned runs. In the first inning, he gave up back-to-back home runs to
Pat Burrell
and
Nate Schierholtz
-- the latter of which was a 450-plus foot moonshot to the upper tank. Needless to say, Rogers wasn't fooling anyone Monday.
Ricky Romero
,
Blue Jays
. The pitching matchup seemed to favor the Jays, as Romero was the opening day starter and the
Red Sox
were running Dice-K out there. Instead, they seemed to reverse roles. Romero couldn't make it through five, giving up eight hits and five earned runs. The worst part, though, was Romero's lack of command. He walked five guys and it took 109 pitches just to complete 4 1/3 innings.
Win as a short-term stat.
Carlos Zambrano
,
Tim Stauffer
and
Shaun Marcum
combined to throw 21 scoreless innings, yet none of them came away with a win. Zambrano was especially impressive, working eight shutout innings and striking out 10 batters for the first time since his no-hitter in September of 2008. But, wait, he didn't get the win! Gimme a break.
For more baseball news, rumors and analysis, follow @cbssportsmlb on Twitter or subscribe to the RSS feed.