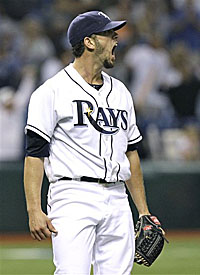 By Matt Snyder
There really wasn't enough room here tonight with lots of really good and really bad performances throughout the baseball world. Apologies to
Brett Anderson
, the
Orioles
, the
Braves
,
Randy Wolf
and a host of others who brought it.
As for those who were spared, it was a long list, too. Among them:
Tigers
' pitchers,
Paul Maholm
,
Hideki Okajima
and Mother Nature.
It's just that we only have three spots in this subjective endeavor.
3UP
James Shields
,
Rays
. He said after the game it had "been a long time," which was true -- as Shields hadn't thrown a complete game since June of 2008. That's exactly what he did Tuesday against the
White Sox
, netting his first win of the year. He struck out nine while only allowing four hits and an earned run. He's actually been dominant at home so far, sporting a 1.54 ERA in three starts -- adding 20 strikeouts.
Ryan Roberts
,
Diamondbacks
. The 30-year-old utility man is making it impossible for Kirk Gibson to leave him out of the lineup. After going 2-3 with two home runs, two runs and three RBI in a 5-4 win at Cincinnati, Roberts raised his season average to .382 with four home runs, 10 RBI and seven runs in just 39 plate apperances. His on-base percentage is .462.
Angels
' offense.
Mark Trumbo
went 3-5 with a double, home run, two runs and four RBI.
Peter Bourjos
went 4-5 with a double, home run, three runs and three RBI. The team as a whole battered the
Rangers
' pitching staff for 15 runs on 15 hits and drew six walks. Meanwhile, the Angels have now won 10 of 13 games and have tied the once red-hot Rangers for first in the AL West. Oh, and the cherry on top?
Vernon Wells
went 2-5 with a double. He's now hit safely in his past six games. He's also seven for his last 17 (.412) with two doubles and a triple.

3DOWN
Carl Pavano
,
Twins
. I guess we aren't going to have any middle ground here. Pavano is either stellar (16 innings, one earned run in his two good starts) or awful (8 2/3 innings, 14 earned runs in his two bad starts). Tuesday it was the Orioles' offense inflating their stats against Pavano, knocking him around for eight hits and seven runs in 4 2/3 frames.
Kenley Jansen
and
Ramon Troncoso
,
Dodgers
. The Dodgers entered the top of the ninth with some hope of winning the game. It was only 2-1 Braves. Sure, flamethrower
Craig Kimbrel
was awaiting the lower part of the order for the bottom half, but you never know. It was only one run. Well, then Jansen and Troncoso happened. Here's how the top of the ninth read, play-by-play: walk, home run, walk, fly out, single, single, homer, double, single, single, single ... and, mercifully, double play to end it. All told, that's eight runs on eight hits and two walks. There was a wild pitch in there. And the hits weren't cheap. Everything was hit hard.
Freddie Freeman
's double was of the ground-rule variety. Frankly, I'm glad it ended when it did, because it was getting uncomfortable to watch.
Adam Dunn
, White Sox. There's no way of knowing if there is a correlation between Dunn's struggles and coming back very quickly from an appendectomy. But after Shields made him look pretty dumb Tuesday night (0-4 with three strikeouts), Dunn is now 2-23 with 14 strikeouts since making his return.
For more baseball news, rumors and analysis, follow @cbssportsmlb on Twitter or subscribe to the RSS feed.