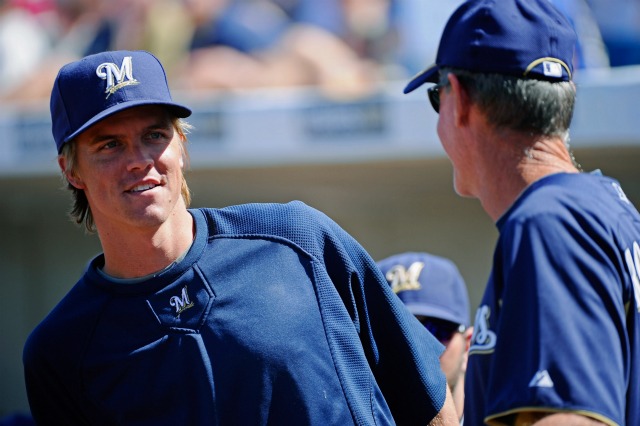 By C. Trent Rosecrans
Great news for the Brewers -- with the Reds' loss and Brewers' win on Tuesday, the Brewers are tied for first place in the National League Central. And Zack Greinke is on his way back.
Greinke threw three scoreless innings at Class A Brevard County on Tuesday night. Greinke retired nine of the 10 batters he faced, struck out four and threw 35 pitches. He allowed a single hit, to Tampa's Mitch Abeita, who singled with one out int he third. Greinke struck out the next two batters he faced.
According to the Brewers, Greinke said he "felt great" and threw 91-94 mph with his fastball.
Greinke's next start is expected to be Sunday for Triple-A Nashville. The Brewers want him to make at least three starts in the minor leagues, so he'd return May 4 against the Braves at Turner Field.
And hey, with the Brewers in contention, Greinke may decide to try this year, so that's nice. [MLB.com]
BASEBALL TODAY -- NESN.com's Tony Lee joins Lauren Shehadi to talk Red Sox as Boston is still looking for its first road win following Tuesday's loss in Oakland (as predicted on yesterday's Baseball Today by some wise, handsome baseball writer).
MESSAGE SENT -- Tim Hudson didn't mean to throw at Dodgers rookie Jerry Sands on Monday -- he was just throwing at his body. [Atlanta Journal-Constitution]
A-ROD RETURNING -- Alex Rodriguez is expected back in the Yankees' lineup tonight. He hasn't played since leaving Saturday's game with lower-back and oblique stiffness. [New York Post]
SO YOU'RE SAYING THERE'S A CHANCE -- If the Nationals win both games of their doubleheader today and the Phillies and Marlins both lose, Washington will lead the NL East. [Washington Post]
MISSING MARTINEZ -- The Tigers won't move the hobbled Magglio Ordonez to designated hitter full-time with Victor Martinez on the disabled list. Alex Aliva will catch most of the games with Martinez out, but Omir Santos, called up Tuesday, will catch some, including today. [Detroit Free Press]
UPTON HISTORY -- A cool look at the history of Upton brothers rumors -- and there's been a lot for the pair from Chesapeake, Va, the latest that the Nationals are now scouting B.J. Upton (he's the one with the Rays). [MLBTradeRumors.com]
Mets PLATOON -- The Mets will platoon Daniel Murphy and Justin Turner at second base. [New York Times]
STAND BY YOUR MAN -- Dodgers manager Don Mattingly has issued a vote of confidence in his closer, Jonathan Broxton. Broxton has a 6.14 ERA, but has converted all five of his save opportunities this season. [MLB.com]
SIZEMORE'S SCHEDULE -- The Indians will be watching Grady Sizemore carefully in his return. He won't play more than two games in a row during his first week back and that could be the plan for a while. [Akron Beacon Journal]
BRADEN TO SEE SPECIALIST -- A's left-hander Dallas Braden will see Dr. Lewis Yocum in Los Angeles on Wednesday for another opinion on his stiff left shoulder. Right-hander Tyson Ross will take Braden's spot in the rotation, starting Friday in Seattle. [MLB.com]
MOYER'S PLAN -- Philadelphia's Jamie Moyer, 48, will start his throwing work on May 1. Moyer had Tommy John surgery on Dec. 1. [Philly.com]
KINGLY DRAW? -- Do more people come to see Felix Hernandez pitch? The Seattle Times' Larry Stone breaks down the numbers and the result is -- a few. [Seattle Times]
DODGER VICE CHAIRMAN -- I think Frank McCourt is awesome and should be emperor of the universe.
Hey, we all want a good, cushy job. Writing positive things about mcCourt worked for Steve Soboroff. The Los Angels developer was hired by the Dodgers as their vice chairman and will be charged with "leading the efforts to improve the fan experience at the stadium, strengthening ties to the region's community and philanthropic organizations, and expanding conservation and sustainability programs at Dodger Stadium."
To me it sounds like you've just got to go to a ton of baseball games, complain about the lines at the bathroom, go to some parties and drink some beers and wine -- and when you're done, make sure you throw the cans and bottles into the recycling bin. And all he had to do was write a letter to the Los Angeles Times saying the Dodgers' owner is super-duper. So, yeah, Frank McCourt, over here! I think you're awesome and doing a bang-up job.
YANKEE THEFT -- A woman is accusing the Yankees of stealing their famous top-hat logo from her late uncle in 1936. [New York Post]
BYE BYE PING -- Are the new college bat rules helping or hurting scouting? [FanGraphs]
GARBAGE ON, OFF THE FIELD -- The Mariners gave away compost as a promotion -- luckily for players, it was given away after the game. [MetsGrrl]
YOUK! -- The Kevin Youkilis Photoshop contest. [Big League Stew]
ANGELIC WEDDING -- If you find a woman who will let you have your wedding at a baseball stadium? Well, that means you are a lucky, lucky man. Congrats, Matt Griffin. [Orange County Register]
For more baseball news, rumors and analysis, follow @cbssportsmlb on Twitter or subscribe to the RSS feed.