By Evan Brunell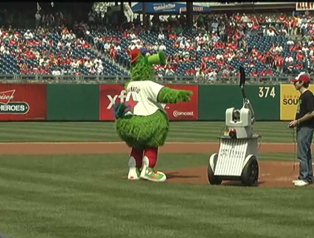 Phillies fans are notorious for many things and you can add booing a robot to the list of accomplishments.
For Science Day, the University of Pennsylvania built a robot to throw out the first pitch. Problem: the robot could not do that as its toss fell well short of the Phillie Phanatic, who was standing in front of home plate.
Cue the booing, as the Phanatic walked up to the robot, pointed to it and then to the mascot's head before twirling his finger around for the universal sign of "crazy."
MyFOXPhilly.com has the video.
It's great that college students are building robots and the effort is appreciated, but if the machines at batting cages can reach 60 feet without breaking a sweat (or in this case... breaking oil?) then this one really should have. But hey, building robots ain't easy.
For more baseball news, rumors and analysis, follow @cbssportsmlb on Twitter or subscribe to the RSS feed.
Photo courtesy MyFOXPhilly.com.