By Evan Brunell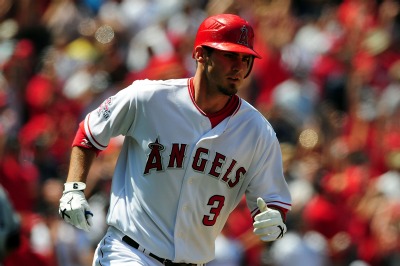 Brandon Wood's tenure with the Angels is likely to come to an end 10 days from Wednesday, as he was mercifully designated for assignment prior to Wednesday's game.
"It was a difficult decision -- not just the baseball, you have personal relationships," GM Tony Reagins told the Orange County Register. "I've known him since he came into our organization as an 18-year-old kid in 2003."
The former top prospect, Wood once hit 42 home runs as a 21-year-old for Double-A Arkansas, but struggled to make the conversion to the majors. Despite chance after chance, Wood just couldn't get going at the major-league level even with 243 plate appearances worth in 2010. All told, Wood will end his Angels tenure with 494 plate appearances in the bigs with a putrid .168/.197/.259 line with 153 strikeouts. Finally, the Angels said uncle, which is the right move as the club has plenty on its hands trying to hang tough in the AL West without punting a spot to someone who clearly needs a fresh start.
"There was an extreme amount of expectations on Brandon Wood -- a first-round pick, top prospect on this list or that list, on this cover, that cover of magazines," Reagins said. "There were expectations that he was going to be a superstar-type player. I don't think he ever got comfortable at the major-league level. It just didn't work out. Sometimes that happens.
"And I'm not saying that it couldn't happen for Brandon Wood in another environment."
The 26-year-old could technically clear waivers, but even given his poor start, you can expect some teams to rearrange their bench to make room for a young infielder who could still break through. There are many teams, especially rebuilding ones, in which it would benefit them to take on Wood. The Royals, certainly, although they appear infatuated with Wilson Betemit and Chris Getz. The Pirates also make a ton of sense, as they are looking for an anchor at short and have been trying to move on from Ronny Cedeno for some time now. But it's not limited to just rebuilding teams. The Blue Jays, Twins, Cardinals ... all could be thought to have interest in Wood.
It shouldn't take much to acquire Wood. He is out of options and given how likely it is he gets claimed, the Angels can't dicker around and ask a lot for Wood. Reagins admitted he had explored trading Wood in the past but nothing was to his liking. If it wasn't to his liking before he forced a move, the market certainly won't heat up now.
One interesting question, however, is if the Angels messed up in guiding Wood through the farm system. It's not often a hyped first-round pick who destroys minor-league pitching fails so spectacularly in the majors.
"There's no exact science in this that says a guy is going to succeed or a guy is going to struggle," manager Mike Scioscia chimed in. "There are some guys who are going to blossom and play above expectations and some guys are going to struggle. You just never really know.
"I don't think there's anything that we were looking at as far as how we brought Brandon along. Did you rush him? Did you make him wait too long? That wasn't the case with Brandon. I think he was prepared for his opportunity."
For more baseball news, rumors and analysis, follow @cbssportsmlb on Twitter or subscribe to the RSS feed.