By Evan Brunell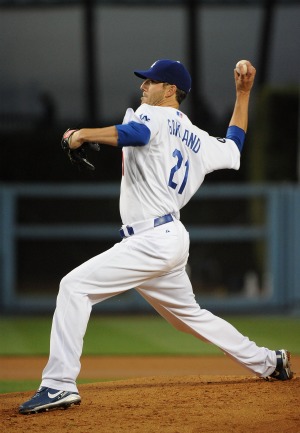 3 UP
Jon Garland, Dodgers -- In Jon Garland's second start of the season on the day MLB announced it was taking over the team, he twirled a beauty by going the distance, allowing just four hits, one earned run and two walks while punching out four. That made it a splended 50th birthday for Don Mattingly, as his Dodgers moved one game under .500. Juan Uribe was the hitting star of the game, driving in four runs in three hits for a 6-1 final score.
Ryan Ludwick, Padres -- Ryan Ludwick has been a piss-poor Padre ever since being acquired at the trade deadline last season. Ludwick was acquired both to be a middle-of-the-order bat en route to a postseason berth, then was supposed to make San Diego forget about trading Adrian Gonzalez. Instead, he had a .195/.293/.307 line for S.D. in 300 plate appearances split across two years. Not good, but he woke up in Wednesday's doubleheader. In the afternoon game, he collected two hits and a walk, but the real damage came in the night game. His 2 RBI were instrumental in the 6-5 takedown of Chicago, tacking on two runs and three hits while cranking his second home run of the year. Entering the day hitting .135/.262/.212, Ludwick is now up to .200/.314/.350. Hey, progress.
Shane Victorino, Phillies -- Shane Victorino wasn't supposed to be the leadoff hitter, but has stepped up big time with the loss of Chase Utley and moving of Jimmy Rollins to the No. 3 spot. The Flyin' Hawaiian knocked two hits against the Brewers in three trips to the plate, scoring two runs, driving in one with a homer and walking once. Victorino is now hitting .324/.370/.515 on the year and is certainly the star on offense in the early going for Philadelphia.
3 DOWN
Jason Heyward, Braves -- Jason Heyward has entered a bit of a slump, as his three strikeouts Wednesday dropped his average to .190 even as he's only struck out 11 times this year against 11 walks. Manager Fredi Gonzalez believes Heyward needs to be more patient at the plate as he only has three walks in his past 11 games after walking at least once in the first eight games of the year. "It seems like he's been making outs and swinging at balls early in counts [and out of the strike zone]," Gonzalez told the Atlanta Journal-Constitution. Heyward didn't seem to take that advice Wednesday, but no worries -- he's too good to dail.
Jacoby Ellsbury, Red Sox -- Ellsbury struck out three times in four plate appearances, tying for the day's second-most strikeouts. Dexter Fowler won that honor with four, but at least added a hit. What Ellsbury's been up to this season is concerning, as Peter Gammons noted on WEEI. Hitting .182/.262/.418 with four homers, Gammons says:
I think one of the things that's killed them is that Jacoby Ellsbury has forgotten what his job is in baseball, which is to get on base and run. His four home runs, to me, are one of the worst things that's happened to this team early in the season, because I think it's encouraged him to get wider and wider with his swing.

They need him hitting leadoff. They need him to get on base 37 percent of the time or 38 percent of the time. I think he's kind of gotten away from that. I appreciate he didn't play for a year, and I understand how difficult it is to come back, but I think that's sort of been overlooked. The guy who's supposed to hit leadoff isn't getting on base.
Something to watch.
Charlie Morton, Pirates -- Morton looked like he was onto something as he completely revamped his windup to become a Roy Halladay clone. The problem, however, is that he started relying on one pitch in one location with his sinker. Morton got away with it until Wednesday when he was pounded for six runs in five innings against the Marlins, walking three and whiffing six. Morton's main issues here are trusting his other pitches and cutting down on the walks. He looks promising enough that if he starts mixing in more pitches, he really could be a find. But until he realizes that hs start to the season was the aberration and not the new normal, he'll have more nights like this.
For more baseball news, rumors and analysis, follow @cbssportsmlb on Twitter or subscribe to the RSS feed.