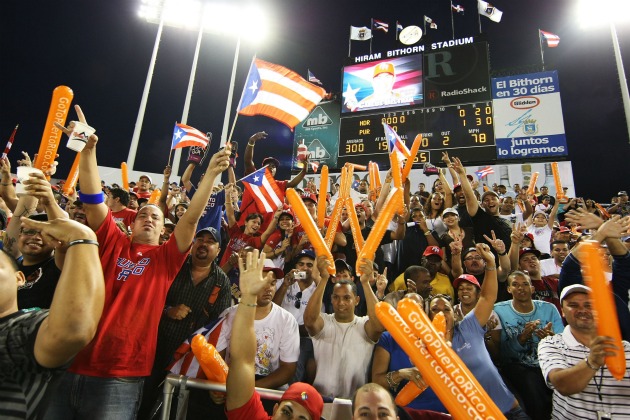 By Evan Brunell
Carlos Zambrano has his reasons wrong, but the sentiment is the same: the Cubs hurler does not want baseball to expand to a worldwide draft.
"[It] would be bad for the kids from Venezuela and the Dominican because we are late developers," Zambrano told the Chicago Tribune. "We didn't have Little League or organized baseball. Kids played maybe once a week, that's it. If kids from my country were drafted and didn't develop quickly enough they wouldn't be around long. Now they develop and grow and then sign a little later than when they would be drafted."
It's rather odd that Zambrano doesn't know how things currently work in Venezuela, but players in his country and the Dominican Republic actually sign much younger than draftees. Players become eligible at age 16 and haul in significantly more dollars than they otherwise would have in a worldwide draft, which has been gaining steam in recent years and could be in place for 2012 or shortly thereafter as the new collective bargaining agreement is expected to include language on revamping the draft that currently only applies to players in the United States, Canada or Puerto Rico.
The latter country serves as a cautionary tale for the D.R. and Venezuela, as Puerto Rico entered the draft beginning in 1990 and has seen a steep decline in its citizens playing baseball.
Puerto Rico was once a hotbed of talent with players such as Roberto Alomar, Sandy Alomar, Carlos Baerga, Wil Cordero, Carlos Delgado, Jose Hernandez, Javy Lopez, Juan Gonzalez, Ivan Rodriguez, Benito Santiago, Ruben Sierra, Jose Valentin and Bernie Williams all signed as amateur free agents between 1982-88 as Portfolio.com relays.
Since then, only Carlos Beltran, Jorge Posada, Javier Vazquez are Puerto Ricans recognizable to many casual fans although Geovany Soto, the Molina brothers, Jonathan Sanchez and Jose Vidro also have had success in the majors along with late-bloomers Angel Pagan and Angel Torres. In fact, just 3.5 percent of position players in baseball came from Puerto Rico back in 2009 as the New York Times writes. Cuban and Venezuelan players, meanwhile have doubled in the last decade.
There are several reasons why Puerto Rico has tailed off in development, only for the D.R., Venezuela and other Latin American countries to flourish, and it starts with the draft.
"Why invest in Puerto Rico if 70 miles west and 500 miles south, in Dominican Republic and Venezuela respectively, I can invest directly in the detection and development without going through the Draft process?" asked Dr. David Bernier, Puerto Rico's secretary of sport way back in 2007 when he proposed a 10-year moratorium in Puerto Rico for draft eligibility as MLB.com wrote. Obviously, that was rejected by MLB as Puerto Rico remains part of the draft.
Part of the problem is that fusing Puerto Rico into the draft to circumvent the bidding process for amateur free agents reaching exorbitant amounts and going to the haves instead of the have-nots put the onus on the player instead of the team. Puerto Ricans are now forced to compete against American players with better coaches, competition, facilities and with more dollars and a stable environment at hand. Teams have shifted their focus away from investing in Puerto Rico and into the D.R. and other countries where academies have sprung up allowing teams to groom and later sign players. The draft acts as a chilling effect for these academies, as teams have no guarantee of acquiring a player that makes use of its facilities and coaches -- so why invest? In addition, grabbing players at age 16 allows clubs to track their development and progress more accurately and groom them into the type of players with the fundamentals that particular organization espouses.
In addition, the economy can be impacted by such a decision to institute a worldwide draft. The main reason Cuban players establish residency in a country other than the United States once they defect is not because it's cooler to live in another country than it is in America. (Although some may feel that way.) It's to avoid being part of the draft where spending is restricted. Amateur free agents in Latin American countries that command hefty bonuses are able to improve the living standards of their families, which in turn means money is being spent to improve those standards. That puts more money in the coffers of business and spurs economic growth. Now, less money is flowing into Puerto Rico, which means less is being spent.
Another issue deals with how baseball is treated in America and Puerto Rico. Baseball is not a supplement to education in Puerto Rico -- that is, there are no high-school leagues as baseball is limited to amateur games on the weekend.
"Major League teams invest resources in identifying talented athletes in the school systems and colleges of the continental U.S. and also directly into the development of players that belong to the countries excluded from the Draft," Bernier noted. "Our development model has never been, nor it is at the present time, a school-college based one; it is community based. It's the same model that was so effective in the years prior to the Draft, but now has less scouts' eyes and recruits in it."
There are four categories for players eligible in the draft: high school players who have graduated and not attended college or junior college; college players from four-year universities who have completed their junior or senior year are or are at least 21 years old; all junior college players.
The one common thread is all have their draft eligibility based on their education. That's caused Puerto Rican stars to abandon their country, instead heading to the U.S. for high school and college to keep up with the competition of American players. (Alex Cora, for example, left his country to attend the University of Miami.) That's caused even less attention to be paid in Puerto Rico when it comes to baseball as the players worth tracking will desert the country anyways.
But it has long-lasting implications for the children too young for college who struggle to find competent training and equipment in which to turn themselves into a star.
So what's the benefit of a worldwide draft? It appears there are two key answers to this question.
First, instituting a worldwide draft will cut down on corruption. Prior to taking over as GM of the Mets, Sandy Alderson was tasked with reducing corruption in the D.R., where buscones -- essentially self-appointed trainers and agents -- took advantage of both players and teams to pocket profits at minimal cost. Similarly, American investors have keyed in on the profits available to train children in the art of baseball in the D.R.
Instituting a worldwide draft would wipe out many of the corrupt buscones as signing bonuses would plummet given the slotting system baseball valiantly tries to get teams to use. It would also allow baseball to more accurately track relevant information of players, who routinely forge birth certificates to give the appearance that they are younger than they appear. Think Danny Almonte as a man playing among boys -- players who are actually 18 that pass themselves off as 16 appear that much more advanced than the players they are being compared to.
Secondly, instituting a worldwide draft is supposed to reduce the gap between haves and have-nots. Supposed to, at least. There's no clear evidence that this is currently the case. You aren't seeing the Yankees and Red Sox routinely pilfer away the most coveted international free agents. In fact, teams such as the Twins (before they became a financial powerhouse), Pirates, Athletics (who stunned many by snagging Michael Ynoa a few years ago) and others have aggressively spent in international free agency. Still, it doesn't stop some from parroting the claim.
Plus, it's not as if the draft is perfect in preventing those with funds taking advantage. There are several players who could be first-round talents every year that drop out because of bonus demands. They drop not out of the draft, but to organizations willing to pay top dollar. Boston is one such organization that routinely takes advantage of this every year, as are the Yankees.
Also working against a worldwide draft is a chilling effect on baseball in all countries. How much less popular will baseball become in the Dominican Republic once the opportunity to receive game-changing money is taken away? For all the corruption issues, as well, buscones actually provide a valuable service. Once you take away their opportunity to make money (legally, of course), buscones will desert the sport. You may even see less Cuban defectors, as the prospect of earning significant dollars vanishes.
Unfortunately, it appears that what's more important to baseball is reducing costs of signing bonuses so owners can pocket more profits. It's capitalism at its finest, but it's also very short-sighted. Baseball needs to find more ways to attract young, athletic players across the world to come to the game, not to have yet another reason to move away from it.
For more baseball news, rumors and analysis, follow @cbssportsmlb on Twitter or subscribe to the RSS feed.