By Evan Brunell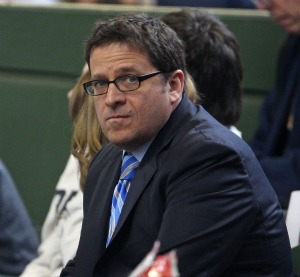 Ever since Bud Selig announced a hostile takeover of the Dodgers, speculation has run rampant on who the next owner of the Dodgers would be if Selig is successful at pushing Frank McCourt out.
Red Sox chairman Tom Werner already flatly denied rumors and two other current owners have joined him.
Brewers owner Mark Attanasio, who is from Los Angeles, said he has no interest in taking the Dodgers over. "It's great to be here. My wife and my family just moved into a new place in downtown Milwaukee, and we're excited to be part of the city and building what we hope is a championship team here," he told MLB.com.
Attanasio was available to reporters Wednesday as news broke that the club signed Ryan Braun to a five-year extension covering the years 2016-2020, which Attanasio also pointed out should be proof positive of his commitment to Milwaukee.
Oakland owner Lew Wolff joined Attanasio in giving a flat no when asked if he would take on the Dodgers. Wolff has been battling for over two years to move to San Jose, with the Giants resisting as is their right given S.F. holds territorial rights to San Jose. Although the deal is expected to eventually be pushed through by Selig, Wolff has grown frustrated by the endeavor.
That doesn't mean he plans to abandon the A's, though, as the Los Angeles Times reports.
"My focus is deep into getting us a new venue for the A's," Wolff said. "That's where my long term is."
There is one other name inside baseball that could end up with the Dodgers -- White Sox executive Dennis Gilbert tried and failed to get the Rangers last year and could cast his aspirations on the Dodgers. Given his stature in the game, Gilbert would likely find an easy road toward taking over L.A. and may have an investment group lined up, ready to go.
He'll have some competition as former All-Star Dodgers first baseman Steve Garvey is throught to be trying to assemble a group. And of course, whenever there's a baseball team available for sale, one must bring up basketball owner Mark Cuban. Cuban didn't respond to an e-mail from the Times for a statement, but has expressed interest in the Dodgers previously. However, after losing out on the Rangers, Cuban said he would no longer participate as the active owner for purchasing a club; rather, he would have to be approached. It appears Cuban is growing frustrated with MLB's gambit to keep him out of the league after also falling short for the Cubs.
For more baseball news, rumors and analysis, follow @cbssportsmlb on Twitter or subscribe to the RSS feed.